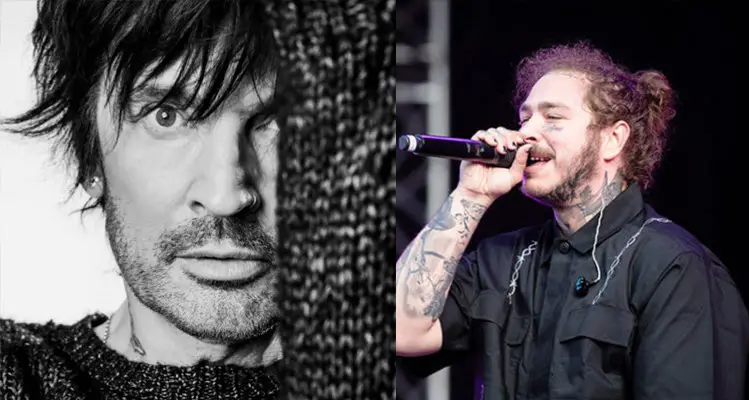 In a new interview with Kyle Meredith, MÖTLEY CRÜE drummer Tommy Lee says that he was thrilled to be the inspiration for the song from Tyla Yaweh called "Tommy Lee," The track, which was released in June, also features Post Malone and it's an ode to Lee and his lavish lifestyle.
"It's even hard to explain," Tommy says. "I'm honored to death that someone would even call a song 'Tommy Lee', and then to have a song be about you… And coming from guys that, like — f*cking Post Malone is probably one of the biggest artists, other than Billie Eilish. These are extremely talented and successful artists, and to get that back, it's hard to even explain. It feels so cool. It's like you're in a club. They've not only accepted you, they're f*cking honoring you.
"It's hard to talk about myself like that, so it's difficult; I'm sorry. But it's cool because it just acknowledges that what I'm doing, I'm on the right path. Getting shoutouts from a bunch of other hip-hop artists, and my name pops up in a bunch of songs. I get a kick out of that. I'm, like, 'That's f*cking rad, man.' It's weird even talking about it. I don't know. [Laughs]"
This past June, Lee addressed his involvement in the song "Tommy Lee" during an interview with Army & Air Force Exchange Service.
Tommy said: "They asked me to do a remix [of the song]. I don't know how much you know about remixes, but a lot of times, people will do a remix and you're, like, somebody changed a few beats here and a little bit of this and a little bit of that and called it a remix.
"Well, this is like a 'redo.' We put on heavy guitars, I smash drums on it, bass, there's some strings… It's crazy. It's like NIRVANA meets GREEN DAY meets THE BEATLES. It sounds like the same song, but it's like the next-level version. It's crazy. I cannot wait for everyone to hear it. I think July 9th or 10th it's supposed to come."