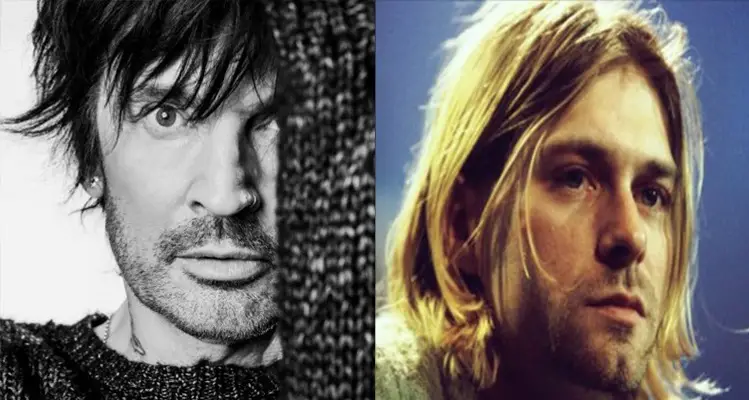 During a new interview for Apple Music with Zane Lowe, MÖTLEY CRÜE drummer Tommy Lee talked about NIRVANA and the grunge explosion of the early '90s.
When asked what the arrival of NIRVANA felt like to him as a member of one of the most prominent hair metal groups at the time, Lee responded (watch full interview below): "I welcomed that with the biggest open arms on the planet. I was like, 'Yes! Somebody's f*cking stirring it up. Thank you. Because if I hear another f*cking song that sounds like…'
"I don't know… There was so many bands that were sounding like – everything was just sounding the same," he continued. "And I love it when someone throws a f*cking grenade into the mix and goes, 'Nope. We're going this way.' Dude, I love that. And then SOUNDGARDEN… And then it just kept going. I loved it."
In a last year's interview with Kerrang! magazine, MÖTLEY CRÜE bassist Nikki Sixx was asked if explosion of NIRVANA did any damage to his band and bands like POISON and WARRANT.
"I have to say that I don't think that NIRVANA and PEARL JAM killed the bands you mention, I think that they killed themselves. They were making copycat music. We, on the other hand, simply imploded. Forget about the lifestyle for a minute — the thing that ultimately allowed us to pull ourselves through was the music that we made, and how good we can be when we really put it together.
"Every great band has hills and valleys; they start at the bottom and if they're lucky they make it to the top of the mountain," Nikki continued. But eventually, you have to go down. Very few bands are lucky enough to become popular and stay popular forever. That's just the way music is — it changes, technology changes, fashion changes, and social outlooks change. But again, today a lot of bands are just so f*cking safe."
MÖTLEY CRÜE, DEF LEPPARD, POISON and JOAN JETT & THE BLACKHEARTS have previously announced rescheduled dates for their 2021 "The Stadium Tour." Dates and tickets for the tour can be found here.