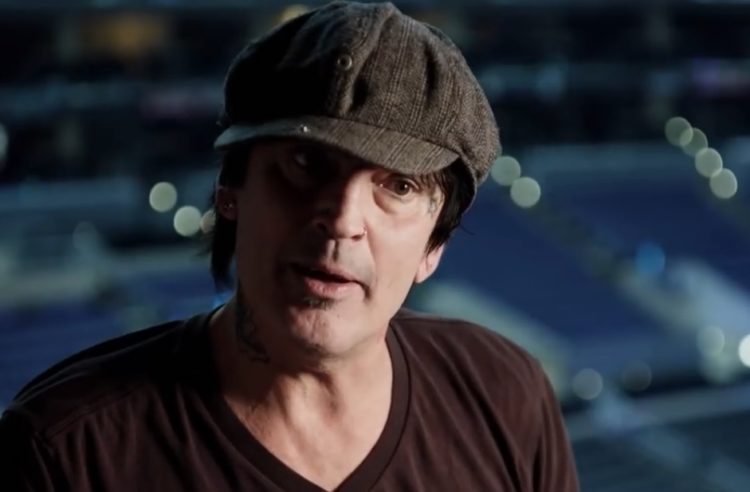 MÖTLEY CRÜE drummer Tommy Lee has once again defended his rights to speak out about political issues, saying that "everyone's opinion matters" and vowing to always share his "truth."
Lee posted the following message on Instagram: "Hey all you a—holes that tell me 'to stick to playing drums' I say stick to playing dumb!!! Unfollow me then If you don't like me voicing my opinion… too bad ..everyones opinion matters… I always have and always will speak my truth and again if ya don't like it keep it movin or unfollow stop hanging around leaving lame a—s comments on my page! F*ck off!"
In a recent interview with Classic Rock, Lee revealed why some of the CRÜE members keep away from him backstage.
He also said he played his upcoming solo album, Andro, for bassist Nikki Sixx, but he doubts that singer Vince Neil and guitarist Mick Mars would be interested in hearing it.
"I played it for Nikki, and he f*cking loved it," Lee said. "He was like, 'Great job, dude.' The other two, Vince and Mick, it probably wouldn't be their cup of tea.
"When we're backstage, they always put me as far away as possible, because I have a f*cking club PA in my dressing room and I'm always playing f*cking crazy music," he added. "They're like, 'Put him way, way down the hall. We don't want to hear it.'"
Asked if it's bother him that some MÖTLEY CRÜE fans won't like Andro, Lee said: "I kind of feel sorry for people who are just rock fans, 'cause they're gonna miss some really f*cking cool songs that aren't necessarily straight rock. They're just f*cking cool songs."
When asked if he thinks he'll ever make a new MÖTLEY CRÜE, Tommy  responded: "Who knows? It's possible. We got a stadium tour next summer, so it's always a possibility. I never say never."
MÖTLEY CRÜE, DEF LEPPARD, POISON and JOAN JETT & THE BLACKHEARTS have previously announced rescheduled dates for their 2021 "The Stadium Tour." Dates and tickets for the tour can be found here.