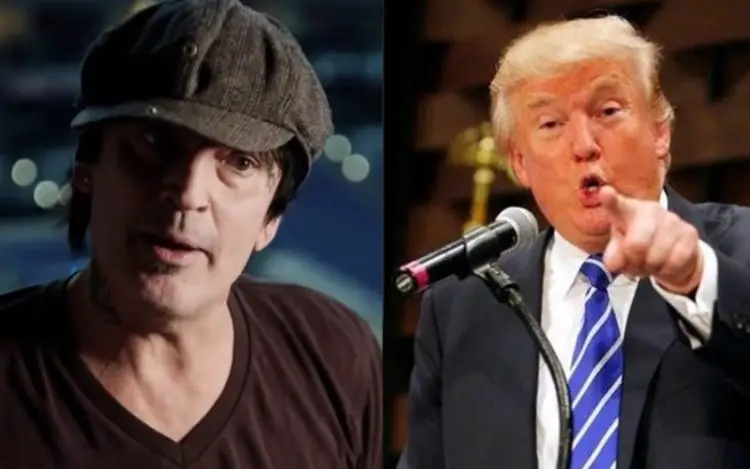 MÖTLEY CRÜE's Tommy Lee has reacted to President Trump hugging and kissing an American flag at the annual Conservative Political Action Conference.
After finishing his speech at CPAC 2020 on Saturday (February 29), Trump decided to hug and kiss the American flag that was on stage while mouthing the words, "I love you, baby."
Couple of days later, Lee shared video of the moment on his Instagram, and he wrote: "Wtf is wrong with you dude?" You can see the video below.
Lee has slammed Trump in numerous occasions, most recently when Trump didn't allow Bahamians fleeing the destruction of Hurricane Dorian into the United States on humanitarian grounds.
"How many more idiotic things can this f*ckhead do and say!?!?!," Lee wrote on Twitter. "Been to the Bahamas a ton of times…. NEVER run into anything but kind beautiful people!!! Eat a Di*k Mr. Presidon't!!!"
After Trump was elected president in November 2016, Lee expressed his disbelief on Twitter, writing: "What the actual f*ck is happening?"
Billboard recently reported that MÖTLEY CRÜE and DEF LEPPARD's stadium tour has already sold more than one million tickets. The trek, which also includes POISON and JOAN JETT & THE BLACKHEARTS, has grossed $130 million, with another $5 million generated from VIP seats.
The tour saw the fastest sellout in Miller Park history in Milwaukee, with additional shows selling out instantly in Atlanta, Seattle, Charlotte, Dallas, Pittsburgh, Detroit, Chicago and Denver.
Tickets and dates for the tour are available here.