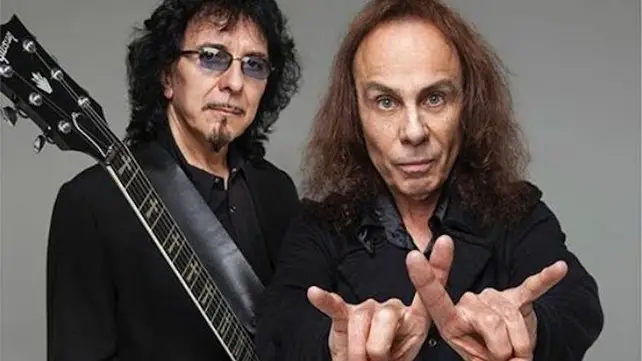 BLACK SABBATH guitarist Tony Iommi was among the attendees at the London premiere of the first-ever career-spanning documentary on the life and times of legendary metal singer Ronnie James Dio, which was held Monday night (September 26) at the Curzon Soho Theatre.
While speaking to TotalRock on the red carpet of the event, Iommi said about Ronnie: "You know, the thing is he loved his fans. Many times we'd say, 'C'mon, Ronnie. We've gotta go.' And he'd always see everybody. I mean, you can't always because you have to leave; you've gotta get the flight or you've gotta do this and that. But he'd always give them time.
"And he loved his fans; it was everything to him. He loved what he did. And he was a real professional. And that's one of the things I really liked about him as well. You'd know he'd go on stage and he'd be able to do it and put it on. He wouldn't pull anything out; he wouldn't cancel anything. He'd go on and do it."
The definitive documentary on legendary metal icon Ronnie James Dio comes to movie theatres around the world for a two-day-only film event. Ronnie James Dio's story transcends the standard rock documentary. Beautifully highlighting both his powerful voice and his gentle heart, DIO: Dreamers Never Die delves deep into the singer's incredible rise from '50s doo-wop crooner to his early rock days in Elf and Ritchie Blackmore's RAINBOW, to replacing Ozzy Osbourne in BLACK SABBATH, and finally cementing his rockstar status with his own band, DIO.