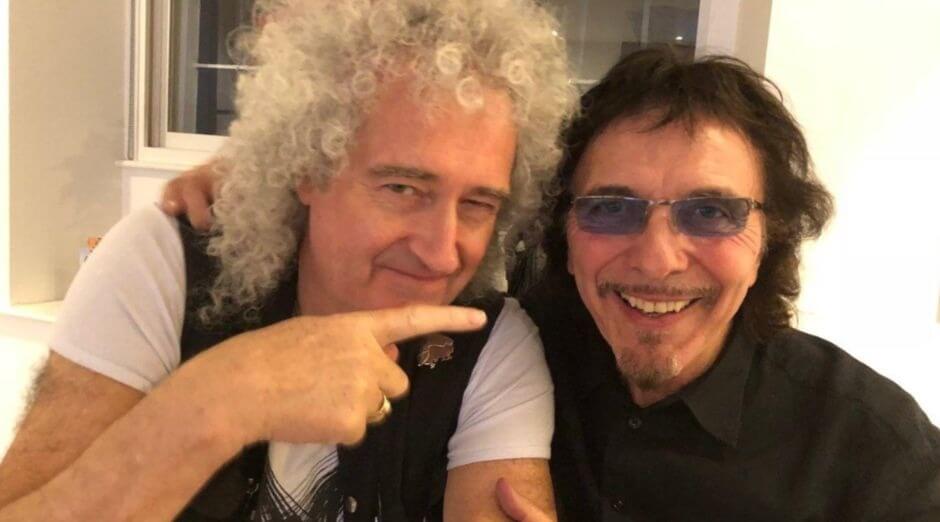 During the "Rock God" segment on BBC's "The Rock Show With Johnnie Walker," BLACK SABBATH guitarist Tony Iommi picked QUEEN's Brian May.
"His sort of sound and style really stood out to me when I heard the first QUEEN album, really," Iommi said. "When I heard that album, [I thought], 'This is a really good band.' And a guitar player is always into other guitar players, and he [had] a sort of unique sound and the way that he played, I just liked it. It was appealing. He's just got a certain character that you didn't really hear from anybody else; he's got something very 'him.' And as soon as you hear Brian now, anybody can pick him out.
Tony continued: "It was in the early '70s we first met. I don't know if it was in the studio. I actually can't remember. Does he know where we first met? We had a very fast connection and we used to talk to each other at all hours of the night in the early days. Now I'm in bed, but in them days, if he knew I was in the studio in London, he'd come over.
"We've jammed a few times," he added. "He's come up on stage and played with me and we've done some album stuff together on different people's albums. He played on my solo album a couple of times. We had a jam session once. He came down to one of our rehearsals, when we were rehearsing in London, and we started playing with the band and the band gradually left, and Brian and myself were were just left playing there. All the gear had gone except for our gear, and we were still playing. [Laughs]
"Yeah, so we've had a great friendship over the years. But the thing is with him, he loves his guitar — he's always got his guitar with him and he's playing. And when he comes to my house, I've always got a guitar there for him so we can have a little play."