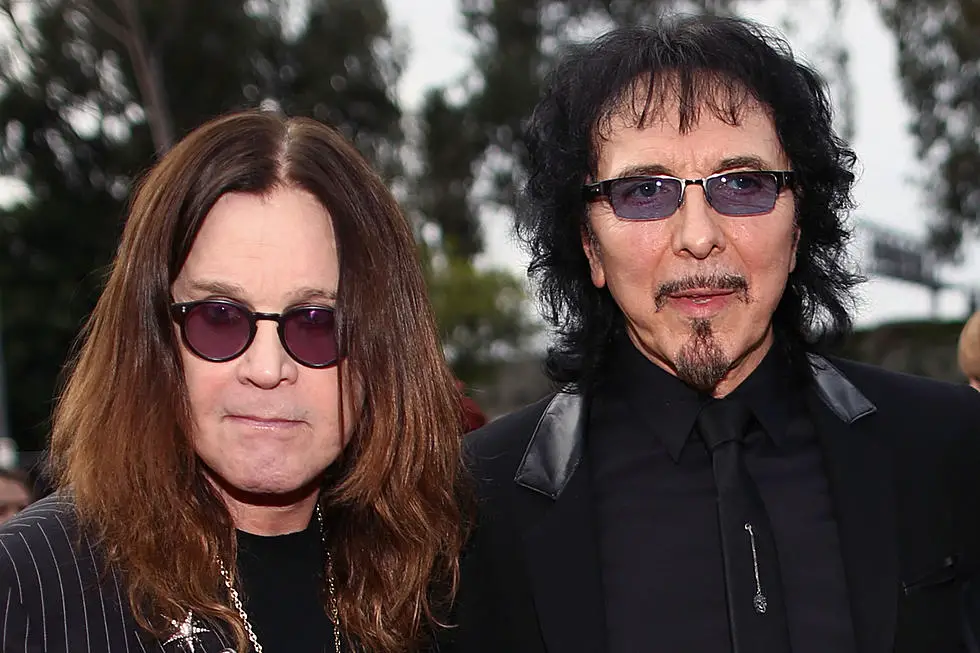 In a new interview with Rolling Stone, Tony Iommi has confirmed that he wrote one song for Ozzy Osbourne's upcoming studio album.
"As you've probably read, I worked with Ozzy for his album," BLACK SABBATH guitarist said. "I wrote the whole track and played on it and played the solo on it. It's horrible, really… No. I'm joking. No, it's good. It's really good. And I like what Ozzy sang on it.
"I think he did a really good job. And I think they had Chad [Smith] play drums on it. I've left it in their hands now."
When asked how frequently he keeps in touch with Ozzy, Tony responded: "We're in touch quite a lot. We don't really speak because we are useless on the phone, the pair of us. I think we stopped that when he used to phone me at 2 o'clock in the morning and I'd go, 'Oz, it's 2 o'clock in the morning.' 'Oh, oh, sorry. All right. Bye.' He forgets about what time it is in England, and of course when the phone goes at that time of the morning you think, 'Oh, Christ. What's that? Somebody's died or something has happened.' And of course it's him going, 'Oh, oh, oh, oh, sorry. I didn't know it was that time.' So we tend to sort of just text now."
Ozzy Osbourne's follow-up to 2020's Ordinary Man is expected to be released early next year, according to his record label.
In a recent financial statement released by Sony, Ozzy's name is listed under a section titled "Selected upcoming releases anticipated over the next six months" alongside projects by Adele, Alicia Keys, BLACK EYED PEAS and Travis Scott, among others.
During a recent interview with Metal Hammer, Ozzy talked about his upcoming album, saying: "It's going to be similar in tone to Ordinary Man, but I can't describe it completely. I've not heard it for a while because it keeps going over to the next person to add their parts — we're f*cking around with it all the time."