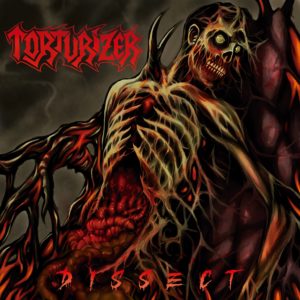 Trends come and go even in Metal music. These last few days we received some Old School Extreme Metal music around here. It seems that kids are still in the blood for some Old School Extreme Metal music. Or veterans are still alive and kicking. Or even both. I guess Torturizer are a bit of both as the band was founded in 2011 and it's been active since then with some stops and goes. The guys really knows how to keep the spirit of 1980s Extreme Metal alive. The true spirit means everything for Metal and you know it, my dear child of night.
Though I actually don't like to review EPs with few tracks – "Dissect" has four tracks only with less than fifteen minutes. of hearing – its content got me by the guts. The album is strong and catchy – in the good sense, of course – with an extremely clean and upstanding production where all instruments can be heard with no effort. This is always a great thing because I guess sometimes a clean production only highlights the musicianship. In this very especific case of "Dissect" the clean production is clearly a upside – no pun intented. I mean, I value a lot to be possible to hear the guitar solos perfectly. Other interesting feature of the album is the war cries like in "Masked" which I instantly fell in love with. I'd say the music herein is a kind of Death/Thrash Metal whose instrumentals are a kind of hybrid and vocals are Death Metal's harsh. Well, I mean some tracks are hybrid, others as the tittle track "Dissect" are perfectly fit to the Thrash fold. By the way, the best track of the album if I'm allowed to say. Strong, catchy, heavy, and malevolent. Ah, the EP cover is purely inspired on Canibal Corpse, isn't it?
Death and Thrash Metal are somewhat linked in the long and glorious history of Metal music. Somewhere in the now long and distant past both got together and parted ways. Not forever apart as bands as Torturizer remind us that all the time. Every now and then there some hybrids. This is the trend that comes and goes as I said before. Again, a special highlight to the production of this EP. It is simply fantastic.
Torturizer "Dissect" was released on march 15th.
Track Listing:
Bewitched
Masked
B.T.M.
Dissect
Watch "Slaughterhouse" official lyric video here: