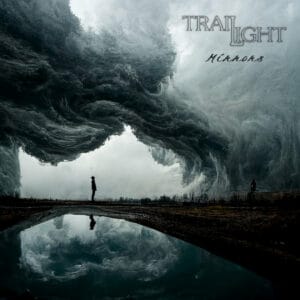 One of the best things of writing here is that each day a different band with different sonancy arrives for our delight. It's not only the amazing variety of Metal bands from all subgenres possible. It's also the myriad of combinations that incorporate new musical ideas to embellish our beloved Metal music. Not only embellishing but also to make it grow and evolve. Trailight's contribution in "Mirrors" was by adding one more element that Metal music had been lacking for many years. This element is melancholy. From where I'm standing it took a while to Metal music render itself to this new reality of modern melancholy. I mean it's everywhere. That simple feeling of being sad without any nreason is somenthing that has totally reached our sad and lonely and pathetic little planet. By adding this feeling of melancholy Trailight had to change their vocals in order to get palatable to fit the new requirement. So, this gets to be the most evident feature that makes Trailight stand out of the crowd.
In fact, if we were to analyse "Mirrors" with very close eyes, this wouldn't be the only feature to stand out. There are others, of course. There is a slow guitar movement into the songs as the initial seconds of album opener "Elegy" with its almost doomy guitar riffing except for the mood. By slowing down the playing tempo of the notes, the impression it gets is that some additional drama is added to the song. I mean, there is a feeling of much more intense emotion. Musicwise, the song gets near grunge except for the piano, the striking clear guitars, and both female and harsh male vocals. Another important difference is that "Mirrors" do have guitar solos taking it away from grunge and giving it a more Metal grip. The music found in tracks as "Harbour" may seem too pleasant for an Extreme Metal fan, however, the intention here is to give the fan the experience of a sonic burst when the guitar solo strikes. It was while listening to "Harbour" for the fourth time that I felt one more element added to their music that is the Jethro Tull instrumentals intent. The context of the acoustic guitar with the tender vocals gives the idea. In turn, "Lead a Horse to Water" gives a more Extreme Metal grip to the album with them powerful guitars and the contrast of vocals. The album would be better  understood if I said there was a lot of Prog Rock elements in it. A kind of grunge with Prog Rock elements embellished with Metal compenents. I guess it's better this way.
Trailight "Mirrors" was released on May 26th.
 The One You Feed
Traveller
Mirrors
Elegy
Harbour
Lead a Horse to Water
Victory
Puerto
Watch Trailight "Mirrors" official trailer here:
1750