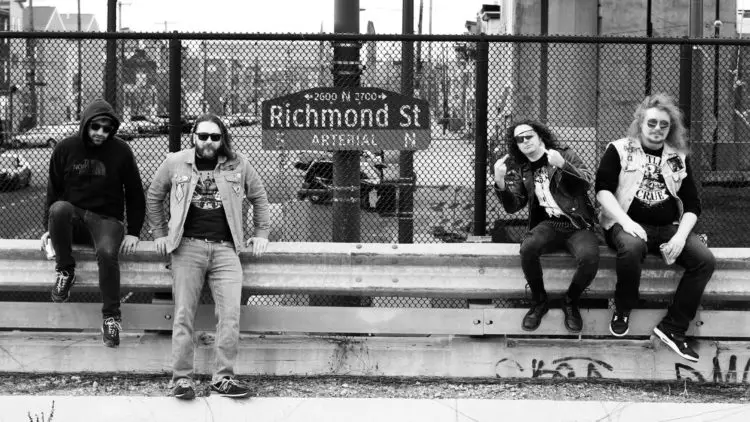 TRAITOR released their debut EP "Delaware Destroyers" in late 2014, and embarked on a powerful journey to discover their sound. Not wishing to constrain themselves within the slim margins of what defines metal genres today, TRAITOR's personal brand of heavy metal can range from thundering double bass and ripping speed riffs, to bass heavy single kick jams under a grooving solo. Further distinguishing TRAITOR from the masses is their twin vocal attack. Led primarily by Greg's gruff traditional vocal style, they also bring out Joe's death-thrash vocals for a back-up punch, as well as leads on their heavier songs. From the high octane opener "Sintroducer/Take Over" introducing ludicrous speed, to the dynamic energy and groove riffs of "Luxury," "Last Hope for the Wretched" unleashes an electric impact.
"Last Hope for the Wretched," showcases TRAITOR's exclusive brand of heavy metal that disregards trends, breaks free of the shackles of purity, and delivers an attack that is truly one of a kind.
Previously, the album had been released on vinyl in February.
Upcoming Tour in July 2022:
Friday 7/8 Pittsburgh PA(Roadkiller, Vicious Blade @Rock Room)
Saturday 7/9 Cleveland OH (Vandallus, Roadkiller @maple grove tavern)
Sunday 7/10 Milwaukee WI (Xray Arcade, not yet confirmed)
Monday 7/11 Chicago IL (Wraith, Gavel @reggies music joint)
Tuesday 7/12 Cincinnati OH (Scab Hag, Aiden Wilder, Obnoxious Boot, The sound that ends creation, @Legends Bar)
Wednesday 7/13 (no show booked)
Thursday 7/14 Knoxville TN (blackhearts booking/brickyard bar still waiting to confirm bands)
Friday 7/15 Charlotte NC (Nemesis, night Magic, [email protected] social club)
Saturday 7/16 DC (Murdersome, Wythersnake, Ninth Realm @ atlas brew works)
TRAITOR is:
Greg Lundmark – Lead Guitar/Lead Vocals
Brian Mikus – Rhythm Guitar/Backup Vocals
Tony "Gloves" Didonato – Bass
Joe Rado – Drums/Backup & Lead Vocals
Read our review here.