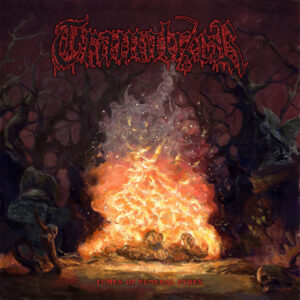 It's very interesting to have the opportunity to analyze an album from top to bottom. Here we get the chance to analyze an album since its cover to all its tracks and all the imagery and iconography the bands – and public relations staff – send us. Metal music is one of the few pop music that still strongly relies on the album culture. Other kinds of pop music rely much more on the single culture. By pop music I mean popular as opposite to classical music. I am not here to pass a judgement on other kinds of music. No sir, my dear cild of the night knows that I never do it. I'm only implying this difference on the way of sharing the outcomes. So, back to the point, having the opportunity to listen to an album from top to bottom shows lots of surprises because sometimes the band that opens up an album it's not the same band when finishing it. I'll elaborate. Sometimes the story the band tells in album takes dissimilar roads and the outcome gets pretty different. That's exactly what happens here with Tramalizer "Fumes of Funeral Pyres."
A quick and reckless view of "Fumes of Funeral Pyres" would showcase a Doom Metal band. The initial moments of the album take this road. Even more, the band's iconography may lead the fan to Doom. No, it couldn't be less correct. Tramalizer perform the good old Death Metal maybe with some touches of Doom especially when it comes to iconography. By the initial guitar solos the other wrongful assumption would be that they nieve with some simple and careless notes. Nah, flat wrong again. Guitar solo construction here is amazing. Guitarist M. Jokelainen works in such a way that it's impossible to accept that there is only one guitar playing in the album. There are layers and layers of guitar lines and solos and constructions. This only should attract the fan to the album, but there is more. "Fumes of Funeral Pyres" is cruel. The music in here is merciless. It's a combination of the raw and the complex at the same time. It's the simple combined with the intricate.
"Fumes of Funeral Pyres" that has to be heard from top to bottom. Initially the fan might think of it as a mere Slayer copycat. Nah, flat wrong again. Tramalizer have their own strong as hell personality. Some tracks might address to Slayer especially when it comes to guitar solos, but only an impression. There is so much more in this album.
Tramalizer "Fumes of Funeral Pyres" will be released on February 17th via Soulseller Records.
Track Listing:
Tramalized
Point of No Turning Back
Hating God
As They Are Put to Sleep
Curse of the Lake Drag
Gift
Fumes of Funeral Pyres
Looking for Reality
Plain Evil
The Rostov Ripper
At the Night of Feast
Watch "As They Are Put to Sleep" official music video here: