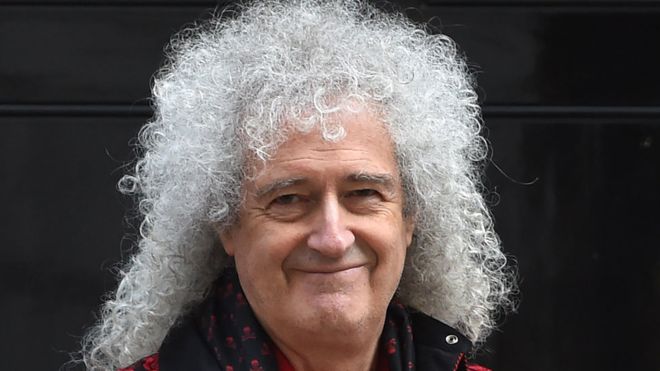 QUEEN guitarist Brian May has opened up about his battle with COVID-19, saying is "the worst flu you can imagine."
One day after going public with the fact that he tested positive for coronavirus, May shared a video message on his social media in which he spoke in detail about how he believes he contracted the disease and describing all the symptoms he went through at various stages in his recovery.
"[My wife Anita and I] been incredibly careful and really not going anywhere," he explained. "We've been very hermit-like in a way for the past — what is it? — 20 months or so. And then last Saturday, we decided we would go to a birthday lunch. And we thought, 'Ah, this is the last social function we will go to — not that we go to many anyway. We'll chance it. Everybody's triple-jabbed. Everybody's gonna be with one of these things which says you're negative on the morning — a lateral flow test. So it seemed to be set up very safely. But, of course, you kind of know you're taking a risk… It seemed like a safe situation.
"You have your negative tests and you're triple-jabbed. So what could possibly go wrong? We thought we were in a kind of safe bubble, so we didn't wear masks. Not so. So it's worth knowing that. Now, if it had been a board meeting where everybody's sitting [a few feet] apart, maybe that wouldn't have been the case, but the new strain, the new variant seems to be so incredibly transmissible, I'm not even sure that would be safe; this thing is spreading at such an alarming rate."
"Saturday was when the party happened," May continued. "Sunday, Anita felt a little bit of a cough. I felt kind of all right — maybe a little [sniffly]. Monday, we both started to have some kind of symptoms. And we thought maybe we got some flu or whatever. We were testing the whole time and we were testing negative. And Tuesday, I hear that I think eight people from the party had already tested positive and had the COVID in their systems. And I realized that they had been testing positive up to this point as well. So Tuesday night we tested ourselves once more and we were both positive.
"So it took that long — Saturday night to Tuesday — for the test to show anything. But I would guess we were infective all along that time. So, unfortunately, the test doesn't give you immunity from spreading it. Luckily, we pretty much kept away from everybody 'cause we had a bit of a feeling. So hopefully we didn't infect anybody else, although I'm not sure. We're now quarantining."
"I have to say it's like the worst flu you can imagine, really," he added. "And I felt very despondent. But, yeah, we were both poorly. Me particularly, I was pathetic, I didn't wanna talk to anyone, didn't wanna see anyone, couldn't get out of bed. I was just filled with a mess in my head and all the flu symptoms, a terrible cough. Now, Saturday — this is day seven — and I feel pretty good. I felt pretty good the last couple of days. So this thing does go away."