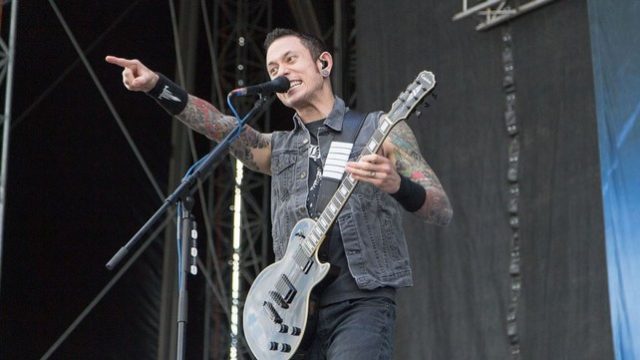 In a new interview with The New York Times, TRIVIUM frontman Matt Heafy spoke about the overwhelming success of his Twitch channel, which boasts a follower count of 220,000.
Heafy revealed that Twitch channel generated just under $10,000 a month in 2019 and 2020. By contrast, TRIVIUM — in which Matt is joined by three other members — collected an average of $11,000 a month from on-demand services like Spotify, Apple Music and YouTube.
In the article, The New York Times described him "one of the most dedicated musicians on Twitch" who has been streaming nearly every weekday at 9 a.m. and 3 p.m. since January 2018 from an unoccupied bedroom in his home in Orlando, Florida, which he shares with his wife and their twin 2-year-olds.
"Even if I don't feel like practicing, I know people are going to be there who want to hear a couple hours of their favorite TRIVIUM songs," Matt says.
"The Metal Tour Of The Year" featuring MEGADETH and LAMB OF GOD is scheduled to kick off on Friday, August 20 in Austin, Texas and hit a further 26 cities before wrapping in Quebec City, Quebec, Canada on Saturday, October 2. Joining them will be special guests TRIVIUM and IN FLAMES, heralding the long-awaited return to the stage for these bands, who are every bit as excited about these historic and not-to-be-missed shows as fans are.
Tickets and dates for the tour are available at this location.