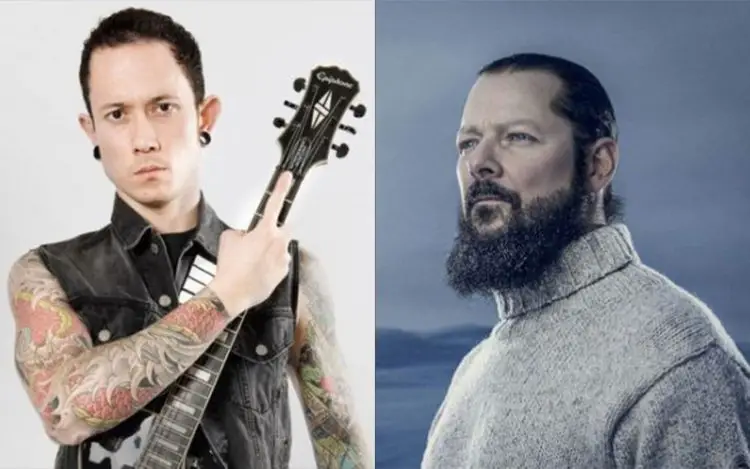 In a recent interview with HATEBREED's Jamey Jasta, TRIVIUM frontman Matt Heafy shared an update on MRITYU, the black metal project he announced with EMPEROR's Ihsahn a few years back.
He was also asked whether he's seen "Lords of Chaos," the recent movie about the early days of the Norwegian black metal scene based on the 1998 non-fiction book of the same name.
He said: "Yeah. I lived by that book as a kid. I was 15-16 and read that book, like, every other month. So the movie – I think if I saw that at 16, I'd be pissed.
"But seeing it as an adult after we get to see that 'Spinal Tap' is a real thing, it's every freaking day on the road, then I appreciate it. It's kind of like 'Detroit Rock City' of black metal. I feel like it's that.
"I grew up having EMPEROR posters and IN FLAMES posters on my wall and reading 'Lords of Chaos' and just worshipping EMPEROR, having all their records and tapes and shirts."
Focusing on the project, Heafy added: "Now, Ihsahn is producing my black metal project [called MRITYU]. He's co-written several songs – we're finally kind of piecing that together, we've got eight or nine songs written on it. He's producing the whole thing, co-writing some of it.
"I'm going to try to get a hero of mine in black metal on every single song. So, Ihshahn's going to do some vocals, Nergal's going to do a song; Gaahl, I think, is about to do a song, hit up some other people."
In a 2015 interview with Revolver Magazine, Heafy said: "MRITYU was initially intended to be a black metal band that I was never going to tell anybody I was in. I was going to make the music, and it was going to be pretty true to the '90s second wave-style-black metal – sort of like DARKTHRONE, early DIMMU BORGIR, early EMPEROR. While MRITYU has its roots in black metal, it's become something so much more. It's not just black metal – it's anything I've ever wanted to try."