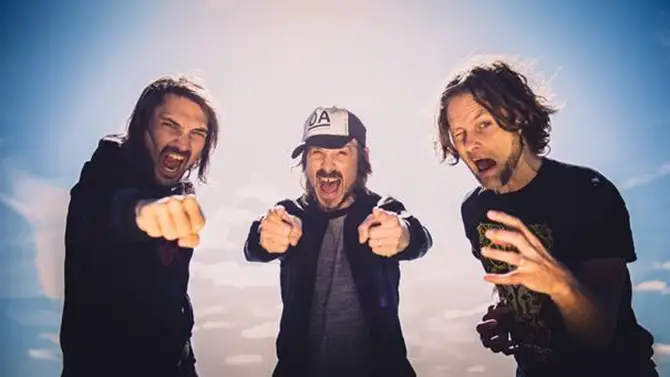 The mighty TRUCKFIGHTERS have launched a video for their new song "Calm Before The Storm", taken off the upcoming album "V"! You can watch the video below.
"Calm Before The Storm" is also available as an Instant Grat Single. You can pre-order the digital album at one of the following outlets:
iTunes
AmazonMP3
The new album "V" will be released worldwide through Fuzzorama in cooperation with Century Media Records on September 30th, 2016.
Shortly after the album release, the TRUCKFIGHTERS will hit the road again to play an extensive European tour.  Support bands for most of the main land dates will be We Hunt Buffalo and Witchrider, for the UK dates it will be Deville and Dot Legacy. Here are the exact tour dates:
20.10.2016 Berlin (Germany) – SO36
21.10.2016 Chemnitz (Germany) – AJZ
22.10.2016 Vienna (Austria) – Fuzzfest
23.10.2016 Munich (Germany) – Backstage Halle
25.10.2016 Milan (Italy) – Lo-Fi
27.10.2016 Bologna (Italy) – Freakout
28.10.2016 Puget (France) – Le Rats
29.10.2016 Bron (France) – Le Jack Jack
02.11.2016 Bilbao (Spain) – Stage Live
03.11.2016 Barcelona (Spain) – Razz 3
04.11.2016 Madrid (Spain) – Chango
05.11.2016 Lisbon (Portugal) – Stairway Club
06.11.2016 Porto (Portugal) – Cave 45
09.11.2016 Amsterdam (The Netherlands) – Melkweg Oude Zaal
10.11.2016 Groningen (The Netherlands) – Vera
11.11.2016 Tilburg (The Netherlands) – O13
12.11.2016 Hengelo (The Netherlands) – Metropool
25.11.2016 Cologne (Germany) – Underground
04.12.2016 Birmingham (UK) – Rainbow
05.12.2016 Glasgow (UK) – King Tuts
06.12.2016 Nottingham (UK) – Rescue Rooms
07.12.2016 Bristol (UK) – Thekla
08.12.2016 Manchester (UK) – Ruby Lounge
09.12.2016 London (UK) – Islington Academy
10.12.2016 Brighton (UK) – Green Door Store
27.12.2016 Hamburg (Germany) – Sankt Hell Festival