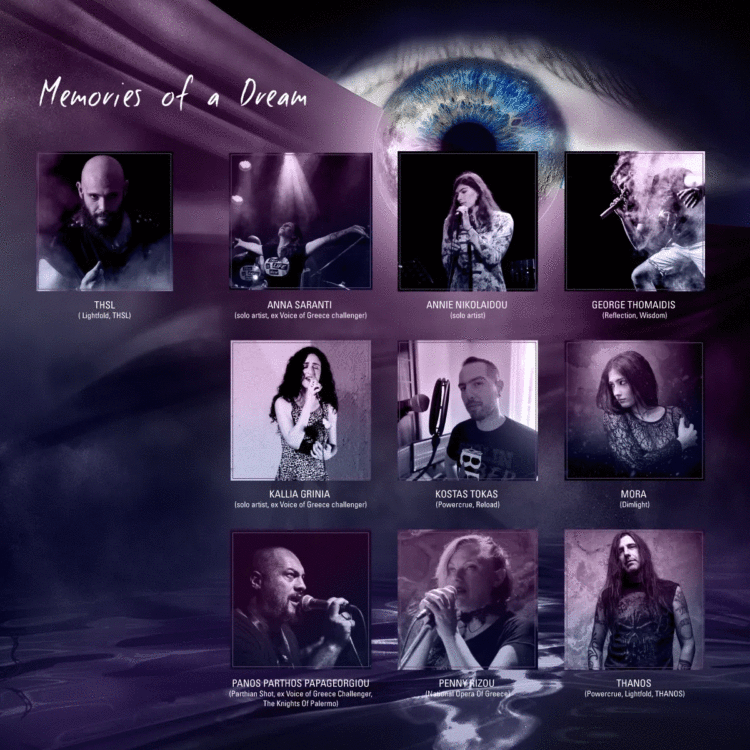 A brand new album, a brand new project and ten stories about humans and mankind, about us and the people around us. About life and death(sl), about the magic of music, about this specific Deux ex Machina, who wants to stamp and surround tomorrow's libretto, which rushed to reside in our very souls since yesterday.
Thanasis Labrakis, mastermind of Greek Metal band Lightfold, releases a ten-song album entitled "Memories of a Dream," joining forces with Thanos Bertsatos (PowerCrue, Lightfold, THANOS), who contributed a large part of music and lyrics on this one. Thanasis also joins forces with some of the most important musicians of Greek Metal scene.
Annie Nikolaidou (solo artist), Kostas Tokas (PowerCrue, Reload), Panagiotis «Parthos» Papageorgiou (Parthian Shot, The Knights of Palermo), Anna Saranti (solo artist), Giota Mpirmpakou, Kallia Grinia (solo artist), Penny Rizou (Greek National Opera, SnakeBite/Alice Cooper TRBB), George Thomaidis (Reflection, Wisdom), Mora (Dimlight).
The worlds inside me battling. Another life awaits me. A different place that takes me closer and closer to my heart.
This inner war becomes melodies and words. Melodies and words straight from the heart. It's an album made of steel, yet fragile, introvert and dynamic. It's porcelain and Kevlar at the same time.
Thanasis Labrakis has been a music lover for a long time now. He performs, he creates, he records and plays, serving music for quite a few years. This album is a pure outcome of his ability to complete music projects as well as choose the right collaborators for every move he makes.
Read our review here.