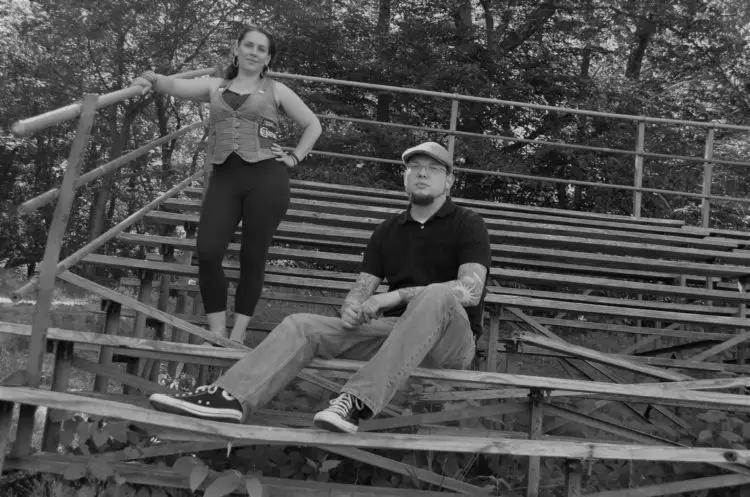 Based out of Connecticut, husband and wife duo TURKEY VULTURE deliver a furious combination of gritty punk with an extreme heaviness. Their third EP, "Twist the Knife," unleashes a dynamic feast of energy and speed with a dark twist.
"On this EP, we went too metal to be punk and too punk to be metal — and we hope someone enjoys it!"
Frontwoman Jessie May and drummer Jim Clegg met in 2008, and soon began playing together in a local rock band called PINK MISSILE. Drawing inspiration from a wide array of musical influences from JOHNNY CASH to DOLLY PARTON and MOTORHEAD, TURKEY VULTURE refuse to allow genre boundaries to contain their creativity. Explosive distorted guitars launch into the heavy. Taking no prisoners, "Twist the Knife" is an unrelenting experience. "Fiji" and "Livestock on Our Way to Slaughter" draw on the films The Truman Show and They Live, both exploring themes of existing in a false reality. Jessie's unapologetic punk clean vocals and utterly guttural growls fuse two powerful genres to produce an epic effect. "Where the Truth Dwells" delves into gothic fantasy realms living through a werewolf's change, before the EP concludes with a personal anecdote with inspiration from the classic country/folk song "Long Black Veil."
Fueled by passion for music and the darker side of pop culture, Twist the Knife is an eclectic mix of sounds and styles. It's vigorous, intense, and chaotic, a delightful voyage into something absolutely unique.  The EP will be released in early 2022.
TURKEY VULTURE are:
Jessie May — guitar, bass, vocals
Jim Clegg — drums, artwork/design/photography
Read our review here.