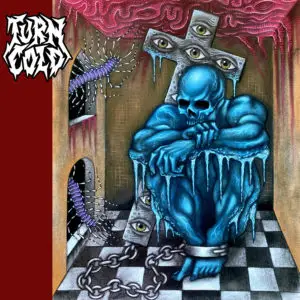 I keep wondering what would be of Metallica if they hadn't succumbed to the easy money of rendering their music to the pops. What kind of fantastic rotten hard Metal music they would be delivering us. We'll never know, I guess.
This Turn Cold EP "Break Your Faith" uses some of the guitar techniques that Metallica made famous and gave them their characteristic and unique sound. During the three tracks of the EP what the fan will listen is a band that happily and securely appropriated all Metallica instrumental weapons, guitar tones, and even the low volume of the bass as it happened in "And Justice for All…" which along "Ride the Lightning" are the albums that inspired Turn Cold the most. It's impossible not to quote both albums in this review. Techniques as the downpicking – the consecutive downstroking with the pick on the strings of the guitar – especially throughout fast passages were added to the three tracks with no remorse at all. It's important to note that this downpicking is very difficult at fast tempi, demanding precision and endurance much greater than alternate picking, a thing that  Kirk Hammett and James Hetfield do with extreme and pristine accuracy and precision. Not only the downpicking but also palm-muting, double kick drums, and fast tempi.
From track one and tittle track "Break Your Faith" the fan will be smashed by an avalanche of Thrash's best instrumental ever made – yeah, I do recognize Metallica's pioneering and essential contribution to Metal's grandness. My problem is what they've done to it. But whatever, now we've got Turn Cold with "Break Your Faith" to remind us the good old times. The overwheelming sound of "Delusion Solution" and "The End of My Rope" takes the fan by the guts. It's like some déjà vu of the best times we had with a band that was supposed the best ever but sold their souls for a couple of bucks – well, not really a couple, it was a truckload, but whatever.
Bottomline, it was great to see that there are bands that have the courage of making some music to honor one of the best moments of Metal music. Turn Cold did that.
Turn Cold "Break Your Faith" will be released on September 10th.
Track Listing:
Break Your Faith

Delusion Solution

The End of My Rope
Watch "Turn Cold" official video here: