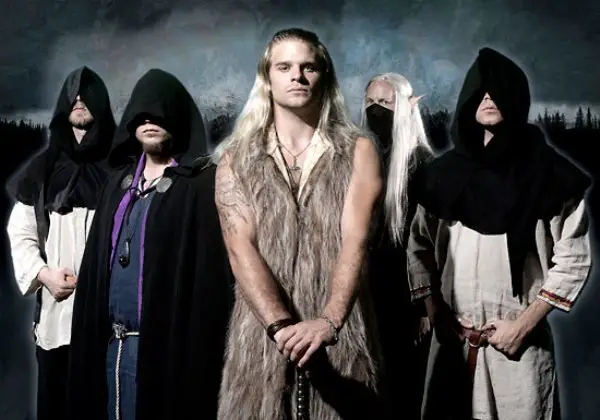 Swedish adventure metallers, TWILIGHT FORCE, are set to release their new studio album "Heroes Of Mighty Magic" on August 26th through Nuclear Blast. Today, the band can proudly announce the guest bards on their forthcoming record. Fabio Lione from RHAPSODY OF FIRE joined them on "There And Back Again" and Joakim Brodén from SABATON on the title track, "Heroes Of Mighty Magic".
Joakim commented:
"When one of the best bands to come out of Sweden in a long time turns out to be your friends and people you have played with many times over the years, it's quite easy to feel proud about being invited to sing on the title-track on their new album, fantastic!"
The band adds:
"It is an honour to have two of the most powerful, esteemed and renowned voices of the genre appear on »Heroes Of Mighty Magic«. Joakim Brodén and Fabio Lione are two very different sonic entities. They each bring something very unique and captivating to our tonal landscape. Our old and revered friend Joakim appears on the title track of the album, and provides an excellent contrast to Chrileon's voice, at just the right moment in the song. Nothing in the world even comes close to Joakim's unbelievably mighty voice! Fabio did an amazing performance on 'There And Back Again'. He entered the Twilight Forge with a brave and proud mind, emerged victoriously and left us in complete awe. His familiar voice provided the track with an absolutely magical contribution. We feel really humbled and grateful to have been given the opportunity to create something alongside these two titans of the genre!"
You can pre-order the "Heroes Of Mighty Magic" album in various formats HERE. You can watch the first album trailer below.
"Heroes Of Mighty Magic" Tracklist:
01. Battle Of Arcane Might
02. Powerwind
03. Guardian Of The Seas
04. Flight Of The Sapphire Dragon
05. There And Back Again
06. Riders Of The Dawn
07. Keepers Of Fate
08. Rise Of A Hero
09. To The Stars
10. Heroes Of Mighty Magic
11. Epilogue
12. Knights Of Twilight's Might