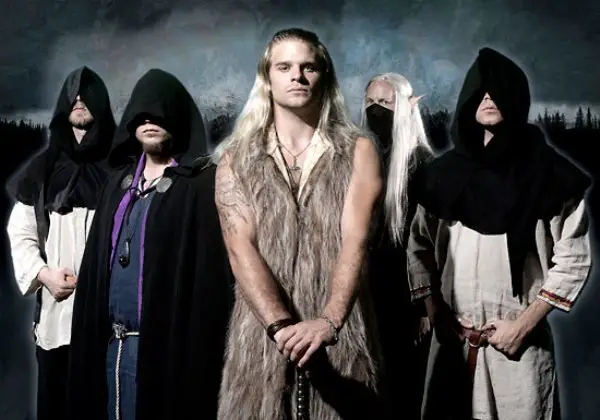 Swedish adventure metallers, TWILIGHT FORCE, released their Nuclear Blast debut, "Heroes Of Mighty Magic", on August 26th. While on tour with melodic metal titans, SONATA ARCTICA, the band reveals their very first music video in the Force's history. The clip for "Flight Of The Sapphire Dragon", directed by Magnificent Beast, can be viewed below.
TWILIGHT FORCE revealed:
"The song is teeming with dwarven folklore, and thus is much influenced by their ancient instruments and tonal language. Their folkish traditions had a significant influence on the creation of the song and we had to study many elder scripts to be able to harness the essence of dwarven musical fundaments. The song is a merry, skittish and exciting journey through the legends surrounding the Sapphire Dragon."
Order "Heroes Of Mighty Magic" now here.
To purchase the digital version click here.
TWILIGHT FORCE live:
w/ SONATA ARCTICA
15.10. UK London – o2 Shepherd's Bush Empire
16.10. F Paris – La Machine Du Moulin Rouge
18.10. F Strasbourg – La Laiterie
19.10. CH Pratteln – Z7
20.10. I Milan – Alcatraz
21.10. D Mannheim – MS Connexion Complex
22.10. D Bochum – Zeche
w/ SABATON, ACCEPT
06.01. D Hamburg – Sporthalle
07.01. D Oberhausen – König Pilsener Arena
08.01. B Antwerp – Lotto Arena
10.01. IRL Dublin – Vicar Street
11.01. UK Glasgow – o2 Academy
13.01. UK Manchester – o2 Apollo
14.01. UK London – o2 Brixton Academy
15.01. F Lille – Aeronef
16.01. F Paris – Olympia
18.01. F Toulouse – Le Bikini
19.01. E Bilbao – Santana 27
20.01. P Porto – Coliseu Do Porto
21.01. E Madrid – Barclaycard Center
22.01. E Barcelona – Sant Jordi
24.01. F Lyon – Transbordeur
25.01. I Milan – Live Club
27.01. A Vienna – Gasometer
28.01. D Ludwigsburg – MHP Arena
29.01. NL Amsterdam – Heineken Music Hall
31.01. D Frankfurt – Jahrhunderthalle
01.02. D Saarbrücken – Saarlandhalle
03.02. CH Basel – St. Jakobshalle
04.02. D Bamberg – Brose Arena
05.02. D München – Zenith
24.02. FIN Helsinki – Icehall
25.02. EST Tallinn – Kultuurikatel
04.03. CZ Prague – Tip Sport Arena
05.03. H Budapest – Barba Negra
06.03. SRB Belgrade – Belexpo
08.03. GR Athens – Peiraios Academy
09.03. GR Thessaloniki – Fix Factory Of Sound
10.03. BG Sofia – Universiada Hall
11.03. RO Bucharest – Arenele Romane
13.03. HR Zagreb – Dom Sportova
14.03. SK Bratislava – Aegon Arena
15.03. D Berlin – Columbiahalle
17.03. S Norrköping – Himmelstalundshallen
18.03. S Sandviken – Göransson Arena
19.03. S Örebro – Conventum Arena
21.03. DK Copenhagen – Valby Hallen
22.03. S Lund – Sparbank Skane Arena
24.03. S Stockholm – Hovet
25.03. S Göteborg – Frölundaborg
26.03. N Oslo – Sentrum Scene
27.03. N Haugesund – Byscenen
29.03. N Trondheim – Samfundet Storsalen
31.03. S Umea – Umea Energi Arena Vind
01.04. S Lulea – Lulea Energi Arena
06.09 US Atlanta, GA – ProgPower USA XVIII