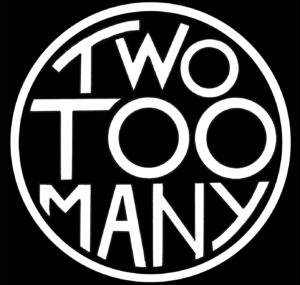 Hey you! Yes, you the metalhead that think Heavy Metal was invented by the NWOBHM hordes or that Judas Priest were the first Metal band ever. Here I present you Two Too Many with their self-titled album which shows one of the origins of our beloved Heavy Metal.
Two Too Many show the fan a trip around late 1960s and early 1970 classic Hard Rock. There are remarkable influences from many established bands which we list down here quoting the songs. First track "Tough to Love" sounds a bit, but a bit, as Guns N' Roses from the "Use Your Illusion" era where they got a bit heavier with more touches of Metal. Second track "Got My Rock N' Roll" sounds more like Sweet, the great 1970's Glam Rock band that influenced so many Hard N' Heavy bands all over the world. It is also an energetic and adrenalized track with the best energy Hard Rock has to offer. "Kaiser's Crown" has a delicicous rhythim and cadence that reminds a lot Led Zeppelin and Aerosmith – well, Aerosmith sounds a lot as Led Zeppelin if you haven't noticed. The lead guitar motif is simply delicious reminds lots of songs done in that time, but with a big personality. The naive guitar solo works marvelously fitting perfectly to the song. A dirty pure rock n' roll theme. And then comes "The Ditch" with its memorable cowbell, an artefact that bands use now and then and the effect is always for the best or for the worst. For Two Too Many's sake it worked fine giving again lots of personality to the band. "The Ditch" is a track that sounds altogether Led Zeppelin, Mountain, and also Guns N' Roses. All of the three the best references for this kind of music. And the last to analize, but not the least, comes "Worse Things Have Happened" with its early Judas Priest's instrumental influences.
As I said before, Two Too Many sound as a great trip around the good old years of classic Hard Rock. As a highlight, as I like to say, there is no sign of any modern feature around the band. The most modern song influence is Guns N' Roses but it's impossible to say they are modern nor for the age, nor for the influences because they were also influenced by the classics.
A great album for whom wnats to know where Heavy Metal came from.
Two Too Many S/T will be released on December 04th via Profane Records.
Track Listing:
Tough to Love
02 Got My Rock N' Roll
03 Keiser's Crown
04 Southbound Bus
05 The Ditch
06 Worse Things Have Happened
07 Five-Year Stretch
08 Drift Away
09 This Is How We Roll
10 Back in the Same Place Again
11 Head to Toe
12 Call the Boatman
Watch "Southbound Bus" official lyric video here: