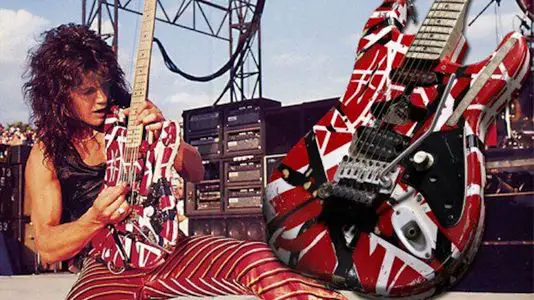 I guess everybody has ever heard about the post-mortem effect that many artist experiment after their passings. It's a well documented fact and, sometimes, a relief to their families and all. But to boost up to 7,600% in physical album sales and 660% in streams, it's prepostereous…
The Rolling Stone magazine has just revealed that the albums "Van Halen" and "1984" are back to the charts in order to the aforementioned post-mortem effect of guitarist Eddie Van Halen. As the magazine mentions "Van Halen's self-titled debut, which ranks 27th on Rolling Stone's list of the 100 Best Debut Albums of All Time, enters the daily version of the Rolling Stone Top 200 Albums Chart at Number 79. "1984," home to their massive, star-making blockbuster "Jump," "Panama" and "Hot for Teacher," enters the chart at Number 114. The RS 200 ranks the top albums of the week by album units, a number that combines digital and physical album sales, digital song sales, and audio streams using a custom weighting system. The chart is updated daily, with an official version of the chart publishing every Monday."
The magazine also goes "overall, Van Halen's album sales climbed 7,600% on Tuesday as news spread of Van Halen's death after a long battle with cancer. Digital song sales were up 7,800%, while streams jumped 660%, from just over 1 million on-demand audio streams on Monday to over 7.8 million on Tuesday.
"Jump" led the band's catalog by both streams and sales, jumping 6,700% in digital sales and 215% in streams. "I'm the One" and "Atomic Punk" saw spikes of 2,600% and 2,400% in streams, respectively, while "You Really Got Me" saw the most dramatic increase in sales, up 33,200%."
Pretty impressive, huh?
Watch "Jump" official music video here: