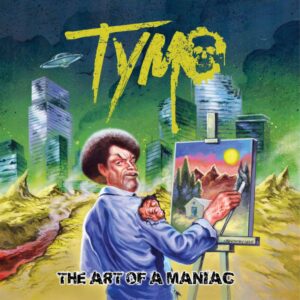 Ah, the art and pleasures of headbanging to the music of a Thrash Metal album. It's amazing when an album begins with this kind of flammable guitar solo that makes everything around burn to the ground. That's the way "The Art of a Maniac" starts. By the way, a fun fact is that if my dear child of the night pays close attention to the initial seconds of "Tymonicide" the sound of a turntable being played with the indistinguishable sound of the needle hitting the play will be heard. Ah, it's been so long. Only the young at heart will get this. So let's go for it.
This is clearly the album that my dear child of the night will headbang from head to toe with no exception. All tracks are energetic and exciting. Has anybody here said that Thrash Metal is predictable? Hm, I guess I have. Nobody's perfect though. This was the second album in a role to prove me wrong this month. It's amazing how the frentic pulse of "The Art of a Maniac" takes the breath of my dear child of the night away. In fact, musicwise, it'd better to say that Tymo are such a powerhouse that I believe it was really difficult to fit their power into this record. Records are never loyal to energetic bands like this one. At first, I thought this album could be labeled as a crossover, but after hearing all the guitar solos and riffs and licks I believe it's pure Thrash Metal with all the energy it was meant to be. Other wrong impression was that because of "Tymonicide" the album would be instrumental only. No, not at all. Vocalist and guitarist Tim Tymo has that kind of acid and corrosive voice. Besides all that, the band showcases an acid and corrosive sense of humor – as it is a tradition – in their lyrics. Take, for instance, "Mars Attacks," "Estrogenocide," and "Sanity Clause." One thing that Thrash Metal is known of is its supreme power of being a pure debauchery. Thanks to Hardcore's inheritance for that.
Being formed in 2015, the band was originally intended to promote frontman Tim Tymo's solo project; however, as the current lineup came together, the band took on a life of its own as they gravitated towards playing faster, heavier music. After attempting to come up with a new band name that the members could all agree upon, Tymo ultimately decided to keep the name and released their debut album "Purge & Reset" on August 19th, 2017.
"The Art of a Maniac" is a lesson on how Thrash Metal can be unpredictable being absolutely predictable.
Tymo "The Art of a Maniac" was released on May 26th via Empire Records.
Track Listing:
Tymonicide
Sanity Clause
Mars Attacks
Estrogenocide
Age of Deception
The Roy Parson Project
War Beneath the Skull
The Art of a Maniac
Alcoholocaust
Watch "The Art of a Maniac" official lyric video here:
1753