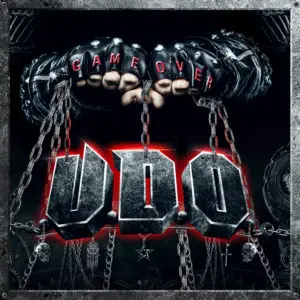 Many may say it's cheesy. Maybe may say it's redundant. Others will say it's tacky. I really don't care. I just love songs as "Metal Never Dies" with those singalong chorus that keeps in one's mind for a long time before the listening. My dear friend Udo Dirkschneider really how how to write songs like this one. Maybe not many people can do it better than he does. And to think that I was almost missing this album due to a computer problem. Yeah, again. I'm always due with my releases.
In terms of innovation I warn my dear fan that "Game Over" doesn't bring anything new. No, sir. Not the album to those who innovation and change for change's sake. It's the plain, direct, and known U.D.O. at best, that is, plain and straight Teotonic Metal. Innovation goes preetty from here if you know what I'm saying. I mean for a guy that has more than 50 years in Metal music it's not really valid, or even fair, to ask a man like him to be a powerhouse of change. So, there are no surprises whatsoever in "Game Over." Well, maybe a guitar tone here and there, or a guitar solo, due to the line-up changes with Dee Dammers as the new guitarist but no surprises at all. There's a new bassist too. Wanna know what? Great! It's great because the fan knows exactly what will be found here. 
As usual in Udo's work, "Game Over" has lots of anthemic tracks. As I mentione before "Metal Never Dies" is the first of them with an unforgetable guitar riffing. The kind of riffing the sticks to the fan's mind. The guitar duet after the first chorus is just incredible and works as a bridge to the guitar solo which is also full of that emotion that only Udo knows how to pass to the fan. Not hard to pick "Metal Never Dies" as the best song of the album. Another great feature of the album is that Udo still has a policatical agenda. "Game Over" isn't as political as U.D.O. & Das Musikkorps der Bundeswehr – We Are One but goes on a more engaged line of work. This time the engaged song is "Kids and Guns" with a message against all the soldier children all around this sad and lonely and pathetic little world. Great to see a Metal legend getting down the wall and showing his concerns about life in this sad and lonely and pathetic little world.
Ok, "Game Over" is an album for Udo's hardcore fans. Well, there are millions of them, am I right?
U.D.O. "Game Over" was released on January 14th via AFM Records.
Track Listing:
Fear Detector
Holy Invaders
Prophecy
Empty Eyes
I See Red
Metal Never Dies
Kids and Guns
Like a Beast
Don't Wanna Say Goodbye
Unbroken
Marching Tank
Thunder Road
Midnight Stranger
Speed Seeker
Time Control
Metal Damnation
Watch "Metal Never Dies" official video here: