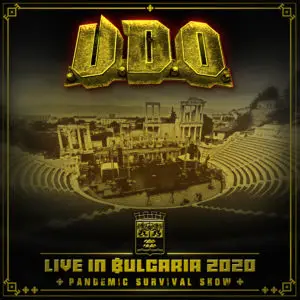 There are reviews that come already written. The moment U.D.O. "Live in Bulgaria 2020 Pandemic Survival Show" popped up on my e-mail I knew what I was going to write. It's no secret that Udo Dirkschneider and Accept are my beloved Metal artists. Unfortunately, with the breakups and reunions I lost track of Udo's solo career and that left a big blank for me. To be really frank, before joining this team, I had only ran into with his first solo album 1987's "Animal House" and the following were the ones to write my reviews here: 2018's "Steel Factory" and 2020's "We Are One" this with the Das Musikkorps der Bundeswehr. So, I can say that I know very little about his solo career and this live album is the opportunity to get to know it better. It's known that Udo left Accept in 1986 claiming that the paths Accept and Wolf Hoffman would like to take were to poppy for him. And he was right. The ones who know 1987's Accept "Eat the Rich" support that statement. It helps the reasoning to know that right after the album they had a change of hearts and, soon after, a reunion. Two albums later, a disband and Udo went back to his solo career and Accept found Mark Tornillo to replace him and everybody got happy and satisfeid forever and ever – or until the  enxt reunion. Ok, then, so let's go, shall we?
"Live in Bulgaria 2020 Pandemic Survival Show" is a double CD with 24 tracks in the spirit of the good old times of Metal live albums. Some tracks are longer than the original ones and there's room for the musicians to give their contribution. This gets clear in songs as Animal House's "In The Darkness" and Accept's oldtime classic "Princess of the Dawn" which received a longer chorus. It's very hard to deny the fact that Udo's solo career is a continuation of Accept's. It simply took its natural course with the addition of new musicians, but the tradition and the spirit were kept intact. "Timebomb" proves it perfectly because it sounds as if it were a continuation of "Fast as Shark," fast and ferocious and full of the finesse only he and Accept could give to a song. There are also room for a drum and bass solos, a lost tradition. The guitar duo here has the same perfect bond Herman Frank and Wolf Hoffman had in the good old times of "Fast As a Shark" and "Balls to the Wall." Of course, as expected there are five Accept classics: "Midnight Mover" – a song that isn't common to be performed, "Princess of the Dawn," "Metal Heart," "Fast as Shark," and "Balls To The Wall." First solo album "Animal House" received the three performances of "In The Darkness," "Animal House," and "They Want War."
An interesting fact is that the album was recorded in Bulgaria, an uncanny place for live recordings. No, I don't mean any disrespect to my Bulgarian fans, it's just that I guess it's the first live album of a major Metal artist that was recorded there. The concert was in the stunning Roman Amphitheatre in Plovdiv, in front of 2500 fans – in the middle of a year that is one of the quietest ever for musicians and bands, both at home and internationally due to the Covid pandemy.
U.D.O. "Live in Bulgaria 2020 Pandemic Survival Show" will be released on March 19th via AFM Records.
Track Listing:
CD1
Tongue Reaper
Make the Move
Midnight Mover
Wrong Side of Midnight
Metal Machine
Independence Day
Rose in the Desert
Vendetta
Rising High
Prologue: The Great Unknown
In the Darkness
I Give As Good As I Get
Princess of the Dawn
CD2
Timebomb
Drum Solo
Bass Solo
Hungry and Angry
One Heart One Soul
Man and Machine
Animal House
They Want War
Metal Heart
Fast As a Shark
Balls to the Wall
Outro (Stillness Of Time)
Watch "Man and Machine" official live video here: