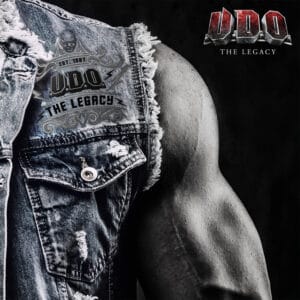 First things first, this album tittle couldn't be more apropriate when talking about one of the most important persons of the Metal music world. Legacy isn't only a word that is the tittle of this album. It's a term that defines what this guy has done in a life dedicated to our beloved Metal music. Many can say they are a legacy, but few can prove that right. This guy is one and only. A guy that has written his name in blood and iron for good. A guy whose voice made him accomplish the pantheon of the gods of our beloved Metal music. A guy whose music made me cherish the best moments of my life. A guy whose name became a living and an undeniable synonym for Metal music. Who's is this guy I'm talking about? The master Udo Dirkschneider with his solo career.
Alright, Accept may be bigger than Udo's solo career and I'm sure it is, but he had his moments. We've been having the honor of reviewing some of his solo works  since 2018 with "Steelfactory," the 2020 project U.D.O. & Das Musikkorps der Bundeswehr "We Are One," also 2020 live album "Live in Bulgaria," and finally 2022's "Game Over." No, wait there is also the 2021 project Dirkschneider & The Old Gang "Arising." Wow, not bad for a 72 year old.
The truth is that U.D.O. as a band doesn't get too far from Udo Dirkschneider with Accept. In fact, one of the reasons he left the band was the commercial turn the band was talking in the mid 1980's. He openly said that on interviews and, for real, did it with his band. However, that doesn't mean at all that he wasn't able to go on and write some unforgatble tunes. "The Legacy" is trip around Udo's career with its 33 tracks including four rare tracks. The two CD album is also a homage to the man's 35th solo career anniversary. It's not a compilation with the taste of Best of as it gets a myriad of songs and most of them aren't the most recognizable of them all. There's no "Animal House," for instance, but "They Want War" a great tune from the eponymous album that still makes me wonder "They are blind.." when I listen it. But I'm sure any fan will love it as much as a newby. By the way, great album to show to someone who doesn't know the man and present him/her one of the most memorable voices of Metal music.
U.D.O. "The Legacy" will be released on November 18th AFM Records.
Track Listing:
Fear Detector
Metal Never Dies
Wilder Life
Pandemonium
One Heart, One Soul
Make the Move
What a Hell of a Night
Pain
Decadent
Falling Angels
Metal Machine
Steelhammer
Dust and Rust
I Give As Good As I Get
Rock'n'roll Soldiers
Dominator
Mastercutor
Vendetta
24/7
Blind Eyes
Man and Machine
Like a Lion
Shout It Out
Holy
Freelance Man
Independence Day
Metal Eater
Future Land
Blitz of Lightning
We're History
Break the Rules
Go Back to Hell
They Want War
Watch official music video here: