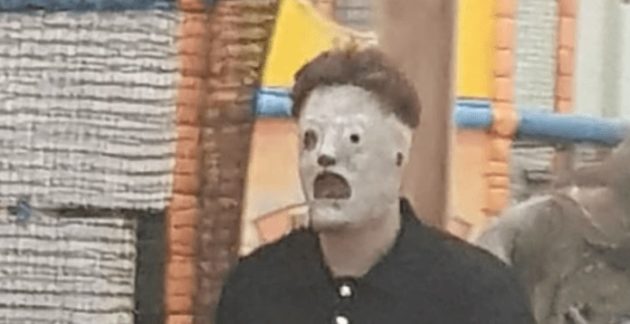 A Children's Play Center has issued an apology after an employee participating in a Halloween dress-up event in the workplace dressed up as SLIPKNOT vocalist Corey Taylor.
Everything began after one mother, Charlotte Nolan, took to Facebook to complain about the mask, posting the above photo and claiming that the children, who were apparently all under ten years of age, "were crying and visibly upset" by the "completely inappropriate" costume:
"[Adventure Kidz] were completely off the mark. There are plenty more appropriate costumes they could wear, they could have done Frankenstein or Dracula, they just didn't need a man in a mask."
The owner of the business, Andrew Moody, says that his staff have been harassed and bullied as a result of the SLIPKNOT drama, telling Kent Online:
"The incident was dealt with within five minutes, the company have apologised and that was it from start to finish.
"I honestly feel bullying my staff is from my point of view just not on.
"This is unacceptable and has to stop."