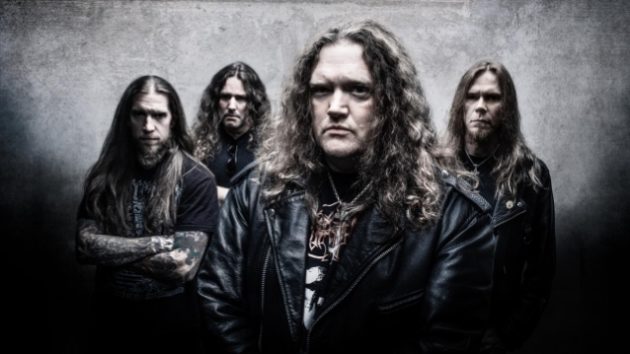 The official lyric video for "The Hunt For White Christ", the title track of the 13th full-length album from Swedish death metal veterans UNLEASHED, is available below below.
Formed in 1989 by vocalist / bass player Johnny Hedlund, UNLEASHED have been delivering supreme death metal from day one.
Vocalist/bass player Johnny Hedlund explains the story behind the new song: "After the despicable acts of terror against women and children in the South, and the devastation of the villages (as seen on the album cover), The Midgard Warriors decide to hunt down White Christ, all the way to Jorsala, if need be."
The Hunt for White Christ is the fourth album in the continued story line of the World of Odalheim and their Midgard warriors – a story authored by Johnny Hedlund himself, comprising of the past, present, and what Hedlund's deems as the future of the Viking traditions and values. The album was recorded in the Winter of 2018 at Chrome Studios, and does not simply mark the Swedes` 13th full-length album: it also solidifies the bands impact on history, paving the way to their 30th anniversary in 2019! Three decades of metal onslaught, and they have neither lost their bite, nor their love for pure death metal mayhem! The album opener 'Lead us into War' breathes sheer aggression in conjunction with majestic undertones, followed by the blasting blizzard of 'You Will Fall' immediately set the scene. The album grabs you from the start and doesn't let go, especially on, the fist-pumping future live classic, 'The City Of Jorsala Shall Fall', as well as the steamrolling title track – will no doubt take any Hammer Battalion`s heart beat faster and faster! For Odin – and for UNLEASHED, the unchallenged kings of supreme Swedish death metal!
The Hunt For White Christ track listing:
01. Lead Us Into War
02. You Will Fall
03. Stand Your Ground
04. Gram
05. Terror Christ
06. They Rape The Land
07. The City Of Jorsala Shall Fall
08. The Hunt For White Christ
09. Vidaurgelmthul
10. By The Western Wall
11. Open To All The World
UNLEASHED is:
Johnny Hedlund: Bass, Vocals
Tomas Måsgard: Guitar
Fredrik Folkare: Guitar
Anders Schultz: Drums