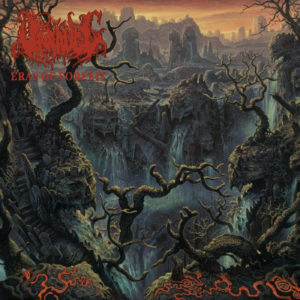 Here is another piece of cake review due the immeadite empathy with the band. Slamming guitars with flamboyant whammy bar effects. It's been a while I do not hear guitarists using this kind of playing. It seems everybodoy just care about major scales and so and no whammy bar effects. Right to face songs with less than a two minute average when everybody is playing more than seven minutes. Well, not everybody, but a great deal of. This Unravel "Eras of Forfeit" dares to be different avoiding a great deal of clichés with a more than angry vocalist.  Good for us who avoid clichés.
Unravel's instrumental reminds a lot Slayer post "South of Heaven" era. Sharp and fast guitar riffs, blasting drumms and a vocalist that has avoided any anger management courses. By the average length of the songs and the vocal, I would label Unravel as a grindcore band, or a technical grindcore one if that existed – pretty sure it does not, am I right? Guitars are too technical with some puzzling guitar solos and riffs to be grindcore though. Last song "Vermankind" shows that perfectly with all its guitar squeaks and breaks in the riffs. Check also first track "Arbitraitor" with its great slayerish opening guitar riff.
"Eras of Forfeit" is the perfect album for those angry days. Days when you want to burst but you are so Metal civilized that the most you can do is listen to a good song and punch you pillow. That's what Metal is also for: to pull away all the anger you feel. "Eras of Forfeit" is a thirty minute, or so, of an appointment with a shrink with no need of the shrink himself. Pissed off about your boss, angry with your companion, in the need of something to make you feel better. Here's "Eras of Forfeit." No need to thank me or the guys.
Unravel "Eras of Forfeit" will blast off on April 13th via Testimony Records.
Track Listing:
Arbitraitor
No Validation For Violation
Reign Of Wasps
Carcinogenesis
Sycophant
Isle Of Rot
Perpetual Servitude
Scorched
Fostering The Festering Spawn
Mortals' Thirst
Vermankind
Watch "Fostering the Festering Spawn" official video here: