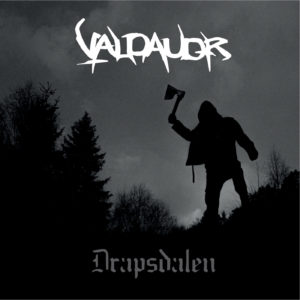 At first the fan may think it's a Raw Black Metal band due to unstoppable and resilient pounding of the drums and the acid death growls. First track "Liket Skulle Vaert Brent" opens up with a fantastic and overwheelming machine-gun-drumming that takes the fan by force and scorches him at large. As no human force is capable of maintaining all the powerhouse throughout the track, it slows just a little. But the track maintains all its ferocious and corrosive power until the end. Well, not only "Liket Skulle Vaert Brent" but all the fans of the extreme of Extreme Music will be pleased with "Drapsdalen" and the bloody mood it makes. "Drapsdalen" is the demented fruit of the masterminds guitarist Død (Blood Red Throne, ex-Satyricon) and Mr. Hustler (original singer in Blood Red Throne). Valdaudr's name is a combination between Død and Vald, with a norse twist to it.
It's possible to say that "Drapsdalen" is a trip around Black Metal styles from the raw features as in "Liket Skulle Vaert Brent" to the classical gripped "Kom Bestig Vaare Fjell" with mocking demon vocals. As I said before the drumming here is so intense that the fan may get some serious headache or any kind of sore neck. So do the guitars. It's really difficult to follow all riffing and playing as they change a lot. But what calls the attention is the intensity that the album is performed. Well, as a matter of fact, everything about Black Metal is intense. Warm isn't a valid word for Black Metal. It would be obvious that the machine-gun-drumming of the beginning couldn't be taken so long as no human being is capable of taking it so far. So, "Drapsdalen" cools down a little – I don't really know if I can say cool down, but whatever. Let's say, huh, runs a little slower.
It wouldn't be very wrong to say that "Drapsdalen" is deeeply based on 1990s Scandinavian Black Metal. However, it wouldnt be that simple as Valdaudr added some more recent stuff from this new wave of Black metal bands that are open to influences as long as they are gloomy, dark, bloody, twisted, and insane. That's the real core of Black Metal music, if you ask me. No wonder the band really nailed it.
Valdaudr "Drapsdalen" will be released on February 26th via Soulseller Records.
Track Listing:
Liket Skulle Vaert Brent
Trass og Vrede
Evig Langt Inn I Tiden
Den Evige Ild
Du Vantro Og Vrange Slekt
Drapsdalen
Kom, Bestig Vaare Fjell
Watch "Liket Skulle Vaert Brent" official video here: