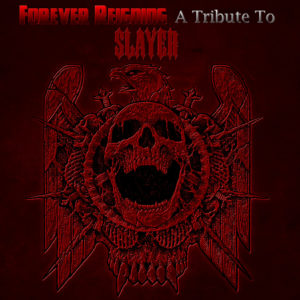 A show of hands my fans that think Slayer deserve a tribute.
Well, I do. Slayer are the kind of band that it's possible to helped shapping a genre. Very few bands have this kind of priviledge. Very few.
It's been a while we don't this kind of tribute compilation here. We had 2020's "Welcome to the Zoom Club (A Tribute to Budgie)," but this one was recorded by only one band, 2018's Triumph Of Death "A Tribute to Hellhammer," again by only one band, 2018's "Helloween Brazilian Tribute – Part II," this one with more bands, 2017's "Pounding Metal – A Tribute to Exciter" with various artists as well. As you can less than one a year.
This compilation had the participation of many unknown and obscure bands. Just the way I think is fair. I think it's fair because it's a chance to these bands show everything they've got. The bands are Distal Descent with three tracks, Skrog and Skull F**kers Incorporated with two tracks each, Eulogy in Blood, Slokill, Overt Enemy, Disinter, and Bloat Toad with one track each. As my dear fan can see a good number of bands to pay this homage to one of the most important Metal bands in this sad, and pathetic, and little planet. All bands opted to be so far from the originals what I think is a great deal. Of oursem, each band could pick to be loyal to the originals or to record their version of the song which I don't think is a homage whatsoever. It's a homage to the band that is playing the version. I remeber to have heard an Iron Maiden tribute (?) where a band recorded a track – I don't remember which song. I did my best to forget it – with a brass section. Too much. Even for me. "At Dawn They Sleep" with Overt Enemy and "South of Heaven" with Skrog are the ones which got closer to the originals. The later got an even more impressive guitar tone.
"Forever Reigning – A Tribute to Slayer" is a pretty decent tribute to a band that deserve all the tributes and homages.
"Forever Reigning – A Tribute to Slayer" will be released on April 29th via Satyrn Studios.
Track Listing:
South of Heaven – Skrog
Show No Mercy – Disinter
Expendable Youth – Distal Descent
Dead Skin Mask – Skull F**kers Incorporated
Bloodline – Eulogy in Blood
Delusions of Savior – Distal Descent
Mandatory Suicide – Distal Descent
Disorder – SloKill
At Dawn They Sleep – Overt Enemy
Spill The Blood – Bloat Toad
Divine Intervention – Skrog
Raining Blood – Skull F**kers Incorporated
Watch "South of Heaven" with Skrog official lyric video: