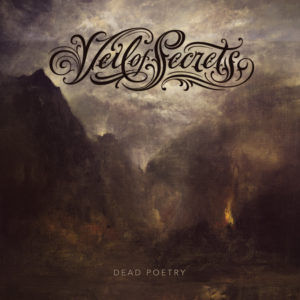 Have you, my child of the night, ever imagined what would be a crossover of Nightwish and the Metallica of the golden era of "Master of Puppets" and "…And Justice for All"?
Well, I have never either, but I'm sure the outcome would be something like Veil of Secrets and "Dead Poetry" for all I've heard.
In fact, the formula of Veil of Secrets is very simple. The instrumental is pure Metallica. Some tracks more the others and the vocalist is pure Nightwish. The thing is that those two things have a clear and distinct part throughout the album. I mean vocals seem to be separate from instrumentals. The impression taht it gets es that they sound so apart that they can't mix together. The same impression the fan gets when he listens to Dimebag Darrel's solos. His solos seem to apart from the song and the effect is amazing. The same here. The voice seems to be apart from the rest of the song. It's an amazing contrast.
"Dead Poetry" kicks off with the amazing "The Last Attempt" which gives the fan a kind of shock from the contrast. At first, the fan stranges the effect, but as the song and the album go on the feeling goes away. The guitar in "The Last Attempt" is kind of hipnotic with agreat guitar riff. Following track "Sear the Fallen" has a great bass drums sequence with a shoegazed and slow cadence. For sure it's the track that sounds the most as Metallica from the "Master of Puppets" era. "Dead Poetry" deals with a lot of contrasts and those contrasts are evident and strong. A track as "Remorseful Heart" unites lots of elements as folk and Modern Metal with an astonishing outcome. But yet the taste of Metallica's instrumental is very strong and present.
Here we ave that in a way subverts all the ideas of Symphonic Metal. In general, Symphonic Metal bands follow the sweetness of their vocalists in their instrumentals. Veil of Secrets dare to do the opposite with strong and hard instrumentals and vocals that search for different solutions. Also subverting the rules of Symphonic, that in a way, are much more strict than the others.
Veil of Secrets "Dead Poetry" was released on November 27 via Crime Records.
Track Listing:
The Last Attempt
Sear the Fallen
Remorseful Heart
The Lie of Her Properity
Fey
Bryd
Meson
Entirety
Watch "The Last Attempt" official lyric video here:
997