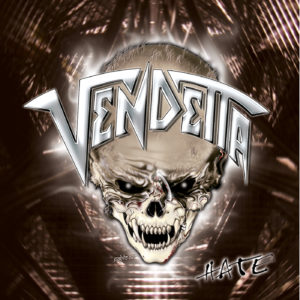 Who has ever told that old dogs learn no new tricks?
Vendetta are a band of veterans. I mean, they've been young for a pretty much time. Vendetta were formed back there in the distant but glorious 1984. After the release of two albums, Vendetta disbanded to come back in the year of the Lord of 2000. They've been around since then.
In a nutshell, Vendetta are everything that Metallica used to be. "Hate" is the album Metallica would be doing if they hadn't sell out. "Hate" makes you miss the good old times when that big thrash band was more than a bunch of sell-outs. With a bass player much better than Jason. Also teaching a lesson of lyrics writing to the younger generation.
"Hate"is as strong as a good coffee. Guitar riffs are clean and clear, intrincated and groovy. A shiny piece of old school thrash metal. "Mother" has a pretty good guitar riff intro which makes you bang your head fiercefully. And then it goes smoothly to the end, not without making you loose your mind. "Rise for Revolution" starts with an undisguised speech and is pretty faster than the other tracks. The chorus is also vibranting. As usual, the opening track, "Hannibal," has the most vibrating guitar riff with a martial cadence. A pretty good inviting card to "Hate" and Vendetta. "Dead People Are Cool" works very well in these days of The Walking Dead show. The song should be in the show because "dead people are cool."
As most thrash efforts, tracks aren't long. The average is of about four minutes, not more than that. But it's enough to show everything Vendetta has achieved through time. So hold your breath, because Vendetta are gonna make you bang. In today's terms, Vendetta would be considered a technical thrash metal band, and of course they are. They are more than that. Vendetta show that time can pass by, but true passion for Metal won't. 
Track Listing:
Hannibal
Lying Society
Guerillas
Hate
Prepare Yourself for Hostility
Mother
Rise For Revolution
Dead People Are Cool
Feed the Etermination
Storage Of Anger
"Hate" will make its Vendetta on November 24th via Allegro Talent Media.
Watch "Hate" official video here: