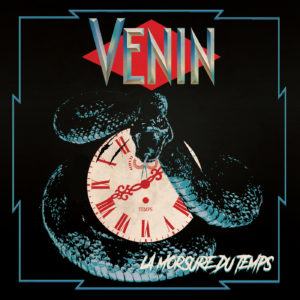 This is one more reissue producer Bart Gabriel digged from the series of forgotten and obscure French metal bands. We appreciated that a lot. It is an opportunity to get to know bands that we would never. This one, unlike the others, comes from Grumpy Mood Records – btw, what a great name for a record company, I feel at home with that.
First thing that calls the eyes is the guitarist, Fabrice "Boule" Baud. The guy really has the style. It was love at first sight when I heard the guitar solo in "Trafiquant De Rock" ("Rock Trafficker"). One doesn't need a lot of French language to get that it's a funny name to a song. But maybe, if you recall history, in most iron courtain countries, records and other things about rock music had to be smuggled. Real facts of real life. Things were difficult back than. Imagine for Metal. Frech Metal bands had this pecliar taste for some political critique.  Well, let's come back to guy, shall we? The guitar phrases he provides in "La Morsure Du Temps" ("Bite of Time") are also great and unusual. Fabrice  really knows how to build a solo. He does it note by note. Very crafty.
I also liked the heavy hands of drummer Vincent Betto. It seems like he plays with the heaviest sticks ever. It reminds me Alcatrazz drummer who used to play as heavy. The guy is also very creative. But, there is always one but, the most charming thing in "La Morsure Du Tempts" is exactly this: the French language. If you are one of those monolingual people, please forget it. But if you are like me who loves Metal in any language, you'll get what I am saying. It's not easy to fit an other language than English in Metal songs. Venin did that perfectly.
Venin "La Morsure Du Tempts" was released on March 16th via Grumpy Mood Records.
Track Listing:
Trafiquant De Rock
Guet-Apens
La Morsure Du Temps
L'instant
Le Nuit Des Fous
La Faute Aux Souvenirs
Les Tourments
Souviens-Toi De Moi
La Raison Du Plus Fou
Watch "Trafiquant De Rock" video clip here: