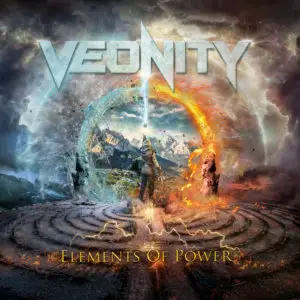 Ah, the Speed Metal album openers. I just love the ta-ta-ta-ta-da-ta-ta with the guitars riffing at the speed of light with the drums going wild with the cymbals. That coordenate thing bands to make the introduction of some album openers in general. Perfect timing and perfect mood. Just the perfect intro for me. From where I'm standing Speed Power Metal drummers are besides Extreme Metal the best of all because they also have the speed thing and have to be pretty technical to keep up the faith. "Beyond the Realm of Reality" does a pretty good figure at all.
Veonity's music may be explained with a simple comparison – me and my comparisons. They the lost link between Yngwie Malmsteen's Rising Force and Ritchie Blackmore's Rainbow. I'll elaborate. Instrumentwise they are very similar to what Yngwie Malmsteen do in his band the difference is the tone of the keyboards that sound more near to Rainbow's. Though they have some more acessible things as they did in "Gargoyles of Black Steel" which, in fact, it's near Helloween. Moreover, I don't see playing "Gargoyles of Black Steel" on radios. The oh-oh-oh chorus as Accept love to do is also present. To my best understand, Veonity are a band that do the best guitar intros. The guitar intro to "Dive Into the Light" is simply the best. Simple, fast, effective, and powerful. A powerhouse of energy and Metal headbanging. By the way, "Elements of Power" is the best album ever to headbang if you'ree considering it. It's a non-stop powerhouse of great riffing and fast drumming.
Ok, now the thing about the keyboards. Take "Facing the Water" for instance where the keyboards are more Symphonic than Power Metal. The same happens in "Altar of Power" and the intro of tittle track "Elements of Power" with all the Symphonic elements. The keyboards aren't that present, but they do make a stand. And there's also the Rainbow's doings in tracks as "Curse of the Barren Plains."
Veonity "Elements of Power" will be released on February 18th Scarlet Records.
Track Listing:
Beyond the Realm of Reality
The Surge
Altar of Power
Elements of Power
Gargoyles of Black Steel
Dive Into the Light
Facing the Water
Blood of the Beast
Curse of the Barren Plains
Return to the Land of Light
Watch "Dive Into the Light" official video here: