v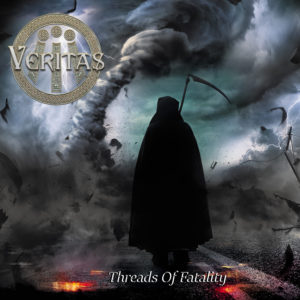 Veritas
is a not so newly formed band that recently released its debut album,
"Threads of Fatality."
The band was formed back in the 2012 with 20 songs already in storage, however due to the many lineup changes they were unable to release any music. In 2019, their work was presented to the fans through their EP, "Veritas" and they made quite the impression. Now, one year later they offer their first full length record consisting of 14 songs. "Threads of Fatality" is an album dedicated to the U.S heavy metal legacy. Gritty sounding, riff based, almost stripped from the distinct melodies and neo-classical shredding of the European scene, thrash influenced, the record is pure American heavy metal. Bands like the early Sanctuary, Iced Earth or Metal Church are lurking as inspirations underneath the sound of Veritas. There is no other way to describe the album than the phrase "less is more." While the album is pretty straightforward heavy metal, without much experimentation and out of the box ideas, feels enough and lacks nothing. Veritas had a solid concept of how they wanted to sound and performed to this effect. The record, musically, sets a pace and follows it until the end. It is easy listening and entertaining, the riffs have a strong groove and sooner or later you will catch yourself either air strumming/ drumming or moving the head along. However, the "Threads of Life" have two musical surprises. Actually, it might be only one but we will count two. The first one is the song "Morbid Stale" and at this point the record sets its thrash influences in the front line. The second is the song "Fates Warning". It is the most unique track of the album and in case it is not clear from the title, it is inspired by the great Fates Warning. Progressive in nature, the song has a detailed drum work with a lot of fills, groovy riffs and vocal lines that remind those of Ray Alder. However, there is a small weakness and in my opinion that is the production. While by no means it is bad, it feels quite thin and lacks the sharpness that it is common in other albums of the genre. Concluding, "Threads of Fatality" is a solid debut for Veritas, destined to leave only good impressions and expectations for great things in the future.