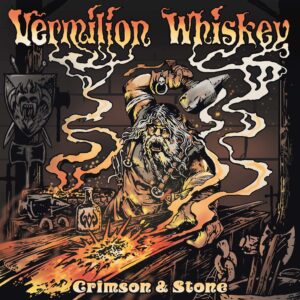 I'll be right to it this time. What amazed me with Vermillion Whiskey and "Crimson & Stone" was the guitar solos and their overtones. Not only the guitar solos but also the tonload of distortion the guitars showcase. It's so much distortion in the guitars that it makes us think that some notes are out of tune producing a dissonant effect that I appreciate so much. Right from the beginning with "Down on You" the band got me by the guts with an organic guitar solo mixing hard distortion with wah effect. I find it just amazing. On the other hand, the guitars don't produce that striking effect when hitting the power chords. The effect they make is a little pale comparing to less distortion. To some extent, I feel the guitar textures found here address to Black Sabbath's "Never Say Die" era. Maybe the overtones made me feel this way or maybe it was the harmonic constructions. These dissonances are so important to the band that they named a song after it. It's simply called "Dissonance."
Vermillion Whiskey released "10 South" which was released on September 1st,  2013 and their  booze-and-blues soaked riffing soaked through the floorboards of the local bar scene. With the kind of honest bar-rock conviction you'd expect to find from a 'working man's band', they soon spread regionally across South Louisiana,  growing a loving fanbase and gaining momentum. Their sophomore album "Spirit of Tradition" was released on Feb 17th, 2017 to positive reviews as their regional presence grew. For "Crimson & Stone" the band recruited Tommy Buckley of Crowbar/Soilent Greento rehearse and record drum tracks and also found current live drummer Wade Perkins, who was instrumental in helping to produce drum tracks alongside Tommy and Duane Simoneaux at OCD Recording and Production in New Orleans, Louisiana.
"Crimson & Stone" showcases that kind of sludgy songs my dear fan are used to listen from bands as Black Sabbath. It's clear to me that their biggest influence comes from this seminal band as though they mix other elements into their cauldron of spicy music. As I said before, the thing that attracted me the most was the guitars and they blow. Yes, they blow!
Vermillion Whiskey "Crimson & Stone" was released on May 26th.
Track Listing:
Intro
Down on You
The Get Down
Confidence
Good Lovin'
Interlude
Dissonance
Atrophy
Hollow
Watch "Confidence" official music video here:
1751