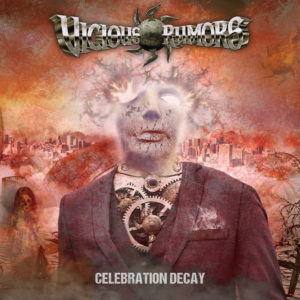 I have a huge hiatus or gap in my metaller life. There are some classic bands that I've never listened though I've read a lot about them or even known their existence. The period between 1990 and 1997 I was a bit away from the Metal world. I mean, I used to listen to all my material, but I rarely had new albums to listen to – I mean new to me. Albums were very expensive back then for the worker's pockets. Though we used to record cassetes, it was necessary to have a friend to buy the album and lend it to you. For that reason, I have some albums that I bought in a kind of partnership – hahahahahahaha. I payed half and my friend the other half. Ah, the delights of being a teen with underpaid jobs those days…
Vicious Rumors are one of the bands I've heard a lot about, but never had an album in my hands. Now I do.
Okay, then. Let's go to their newest album "Celebration Decay." To begin with Vicious Rumors are a band that belonged to a select group of bands in the mid 1980s that were able to get together the speed and aggressive music of the early Exttreme Metal with the finesse and melody of NWOBHM. Excelent idea, huh? In fact, unfortunetely, those bands found themselves in the worst of both worlds. They weren't heavy enough for Extreme Metal fans and too heavy for NWOBHM fans. The years of Thrash Metal rise were extremely harsh on them. Very few survived. But time brings not only bad news, it also brings new chances and the new Metal fans who were looking for something in the middle of what Metal was offering found them. This is exactly the kind of music that "Celebration Decay" offers the fan with its hard and harsh guitars mixed with melodic guitar solos and licks and an extremely versatile vocal who can go from the lowest tones to the highest pitches ones in a snap. The album offers a variety of moods and feelings during its eleven tracks and I guess this certainly is the highlight of it. Listen to the sequence of "Any Last Words," "Asylum of Blood" and "Darkness Divine" and you'll get the exact idea. The contrast between vocals and the guitars is remarkable as well and amuses the fan.
"Celebration Decay" shows that the finesse of Old School bands never cease to amuse. Vicious Rumors teach a valuable lesson to the new generations of metallers. It's an album to enjoy calmly.
Vicious Rumors "Celebration Decay" will be released on August 21st via Steamhammer / SPV Records.
Track Listing:
Celebration Decay
Pulse of the Dead
Arrival of Desolation
Any Last Words
Asylum of Blood
Darkness Divine
Long Way Home
Cold Blooded
Death Eternal
Collision Course Disaster
Masquerade Of Good Intentions
Watch "Pulse of the Dead" official video here:
948