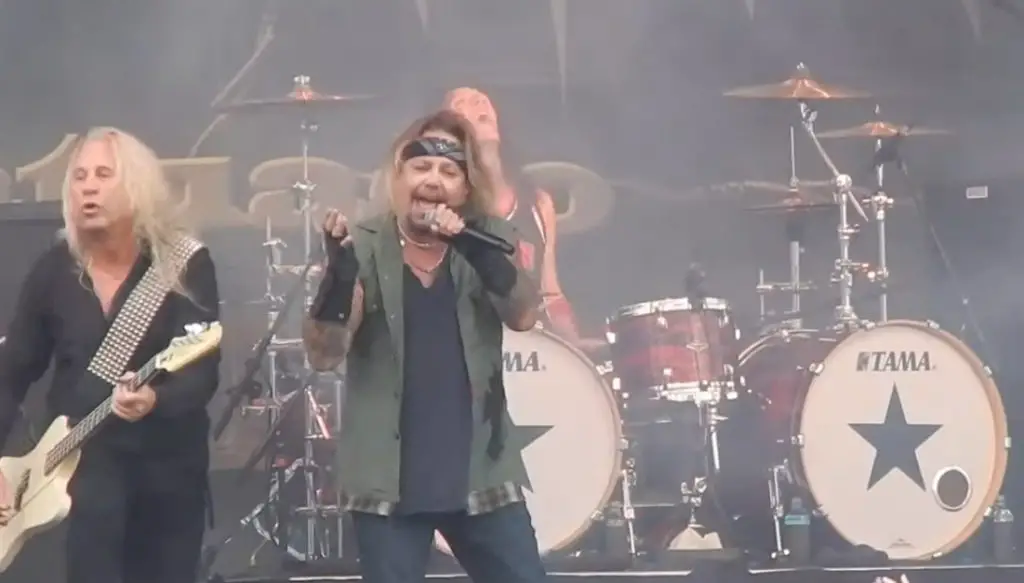 MÖTLEY CRÜE singer Vince Neil performed two separate concerts this weekend — Friday, August 13 at Indiana State Fairgrounds in Indianapolis, Indiana and Saturday, August 14 at The Regalia in Lake Ozark, Missouri — can be seen below. Fan-filmed video footage of the shows can be seen below.
The shows come more than two months after Neil struggled to complete his solo concert at the Boone Iowa River Valley Festival in Boone.
At Boone Iowa River Valley Festival, Vince's band opened with "Looks That Kill" before jumping into "Dr. Feelgood," and though Neil's vocals on "Dr. Feelgood" weren't "that bad," it definitely wasn't one of his strongest performances.
But everything started to fall apart when Neil launched into a cover of the THE BEATLES' "Helter Skelter." Vince seemed to forget the words to the Beatles classic, while struggling to keep up with his band's down-tuned instrumentals.
And then, while performing "Girls Girls Girls," Vince finally gave up addressing to the crowd: "Hey guys… I'm sorry, you guys. It's been a long time playin'. My f*ckin' voice is gone… uhh… we love you and we uhh… hope to see you next time, man. Thank you."
New dates and tickets for "The Stadium Tour," featuring MÖTLEY CRÜE, DEF LEPPARD, POISON and JOAN JETT & THE BLACKHEARTS can be found at this location.