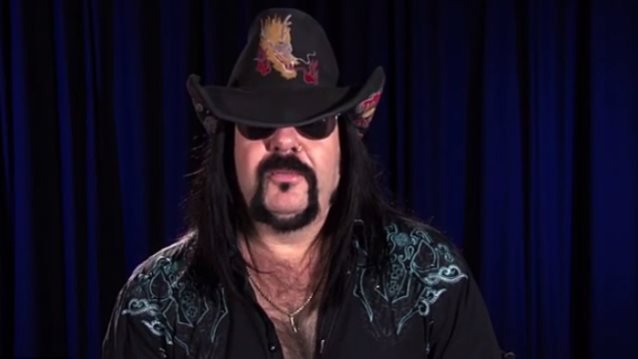 According to the Las Vegas Review-Journal, the official cause and manner of Vinnie Paul Abbott's death is still pending. Clark County spokesman Dan Kulin said that information will likely take several days to be issued.
Vinnie Paul passed away on Friday (June 22) at his home in Las Vegas at the age of 54. The former PANTERA drummer's death "did not appear suspicious," according to the official report of the event recorded by Metropolitan Police officers.
Officers were dispatched to a dead-body call at 5:41 p.m. Friday. Medical personnel were summoned, and Vinnie Paul was pronounced dead at the scene.
After an official cause of death has been determined, Vinnie's body will be flown to Texas to be buried between his mother and brother.
Vinnie Paul and his brother "Dimebag" Darrell Abbott co-founded PANTERA. When PANTERA broke up in 2003, they formed DAMAGEPLAN. On December 8, 2004, while performing with DAMAGEPLAN at the Alrosa Villa in Columbus, Ohio, Dimebag was shot and killed onstage by Nathan Gale. He was 38 years old.
Since his brother's murder, Vinnie Paul released several Dimebag-related items through his Big Vin Records label, including DVDs and the paperback book "He Came to Rock". Vinnie later said that the Dimebag-related releases weren't an attempt to cash in on his brother's tragic end but rather a way to keep Dimebag's legacy alive and well.