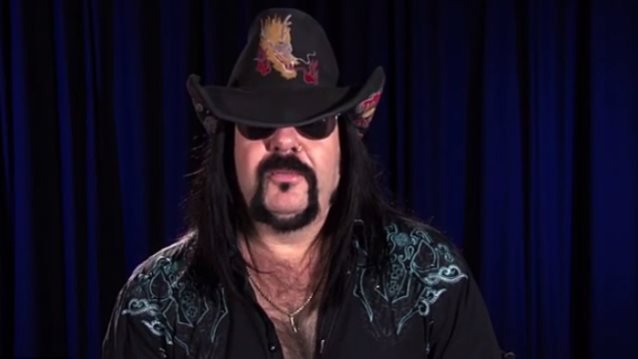 The estate of PANTERA drummer Vincent "Vinnie Paul" Abbott has issued a statement saying they approve of the band's upcoming shows, but didn't explicitly call it a reunion.
As previously reported, PANTERA surviving members, Philip Anselmo and Rex Brown, reformed the band with Zakk Wylde on guitar (from OZZY OSBOURNE and BLACK LABEL SOCIETY) and Charlie Benante on drums (from ANTHRAX). They will be playing at festivals all over North America, South America, Europe as well their own headline concerts.
Vinnie Paul's estate released the following statement via the drummer's social media: "There can never be a PANTERA reunion without Vinnie and Dime. However, there is no better way to celebrate and honor Vinnie and Dime's legacy, than to bring the music of PANTERA directly to the fans. We are honored that Charlie and Zakk, their very close friends and musical brothers, will share the stage with Philip and Rex, to unleash the power of PANTERA live around the world."
Sterling Winfield, who has been PANTERA's producer for many years and is one of the people reportedly in control of Vinnie Paul's estate, shared the above statement on his personal social media page and added the following:
 "Here's the press release that the 'media' said we had already done six months ago. It was just posted about five minutes ago for the first time EVER.
"Don't believe everything the media tells you. Choose for yourselves. Enjoy it with open arms, minds & hearts. Or don't. The choice is yours. But don't make that choice for someone else."
Vinnie Paul died on June 22, 2018 of dilated cardiomyopathy, an enlarged heart, as well as severe coronary artery disease. His death was the result of chronic weakening of the heart muscle — basically meaning his heart couldn't pump blood as well as a healthy heart.