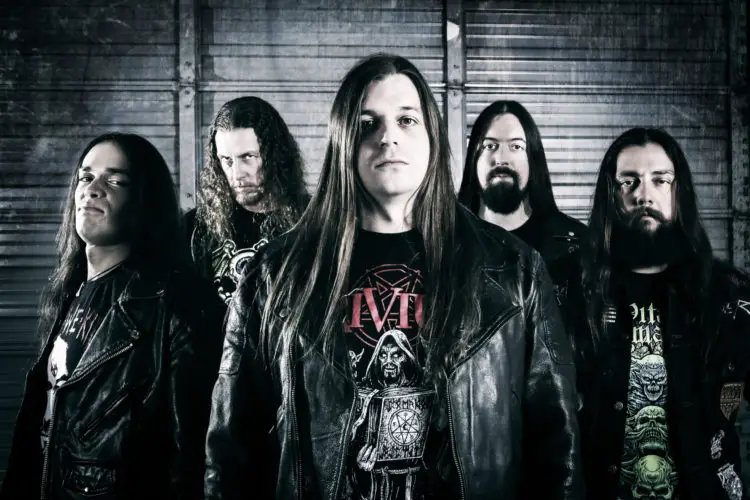 After besting dozens of unsigned groups to serve as America's representative in the 2018 Wacken Metal Battle (an international battle of the bands whose winners earned the chance to perform at the world's largest annual metal festival), the Orange County, California-based melodic death metal quintet VOICES OF RUIN show that their victory was no fluke on "Path To Immortality," their third album (and M-Theory Audio debut). Produced by former Machine Head/Soulfly guitarist Logan Mader (Gojira, Septicflesh), the album showcases an epic blend of classic heavy metal and modern death metal that also pays homage to the traditional Scandinavian melodic death metal sound.
Founded by brothers Dave (vocals) and Tom Barrett (guitars) more than a decade ago, VOICES OF RUIN have performed extensively in support of their two self-released albums, 2010's "Into Oblivion" and 2015's "Born From The Dark." In addition to winning the U.S. Wacken Metal Battle in 2018, the group has toured Europe with Internal Bleeding and Sacrificial Slaughter; supported Vader across North America on the 2017 "Strike Of The Empire" tour; played in Japan alongside Vader and Hate; and performed extensively in Southern California alongside a number of notable acts, including Morbid Angel, Trivium, Devildriver, Dark Tranquillity, Amorphis, Cattle Decapitation, Dying Fetus and Origin. For the past six years, the band has also organized the annual Ruinfest festival, a celebration of California's extreme metal scene that has featured the likes of Fallujah, Exmortus, Pessimist, Skeletal Remains, Helsott and Letum Ascensus.
On "Path To Immortality" – which features striking cover artwork by Par Olofsson (Exodus, Revocation, Immortal) – VOICES OF RUIN give melodic death metal the shot in the arm it so desperately needs. Hearkening back to the genre's glory days while pushing the envelope one step further, the band skillfully meld brutally catchy guitar riffs, soaring melodies, devastating percussion and the ferocious blackened death growl of their charismatic front man. Its closing track – an excellent metallic rendition of the Foo Fighters' hit "Everlong" – further emphasizes the band's diversity.
"'Path To Immortality' tips the hat to classic melodic death metal while also incorporating thrash elements and a crushing production," Tom says. "We think it's by far our strongest material to date, and we can't wait to unleash it."
VOICES OF RUIN are:
Dave Barrett – vocals
Tom Barrett – lead guitar
Steve Calton – rhythm guitar
Wally Myers – bass
Lonnie Van Horn – drums
Read our review here.