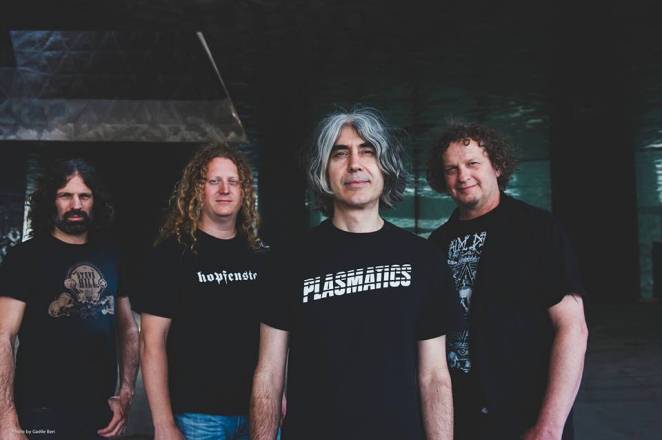 After a successful run of festival dates and with work on their much anticipated new studio album underway, Canadian progressive sci-fi metal innovators VOIVOD will return to Europe one more time in September/October in order to promote their latest Mini-CD release entitled "Post Society – EP". Support will come from Germany's Earth Ship. See the dates below.
VOIVOD's drummer Michel "Away" Langevin checked in with an activity update as well as to comment about the European run as follows: "We are really proud to go to Europe for the second time this year, where we will meet old friends and hopefully make new ones in some countries we've never been before! In the meantime, we are trying hard – between festivals here in Quebec – to finish the writing of the new album on time for the recording sessions in August. What a year already! See you soon…"
VOIVOD's "Post Society – EP", which followed up 2013's acclaimed "Target Earth" album release, is available as Digipak CD and as Digital Download. It contains 5 studio tracks with a total playing time of 30 minutes. The artwork was traditionally created by VOIVOD drummer Michel "Away" Langevin.
VOIVOD – Post Society Tour / Europe 2017 with support by Earth Ship:
27.09. Bologna (Italy) – Locomotiv Club
28.09. Roma (Italy) – Traffic Club (Italy)
29.09. Giavera del Montello (Italy) – Benicio Live Gigs
30.09. Mezzago (Italy) – Bloom
02.10. Pula (Croatia) – Club Uljanik
03.10. Zagreb (Croatia) – Industrial Bar
04.10. Budapest (Hungary) – Dürer Kert
05.10. Belgrade (Serbia) – Dom Omladine
06.10. Brasov (Romania) – Club Rockstadt
07.10. Cluj-Napoca (Romania) – Flying Circus
08.10. Kosice (Slovakia) – Collosseum
09.10. Ostrava (Czech Republic) – Barrak Music Club
10.10. Wroclaw (Poland) – Stara Piwnica
11.10. Lodz (Poland) – Dom
13.10. Göteborg (Sweden) – Truckstop Alaska
14.10. Stockholm (Sweden) – Kraken + The Lurking Fear
15.10. Copenhagen (Denmark) – Stengade
17.10. Deventer (The Netherlands) – Burgerweeshuis
20.10. Aarburg (Switzerland) – Musigburg
21.10. Landshut (Germany) – Alte Kaserne
VOIVOD – Live 2017:
22.07. Baie-Saint-Paul / Quebec (Canada) – Le Festif!
09.09. Montreal (Canada) – Wings of Metal Festival (Sold Out!)