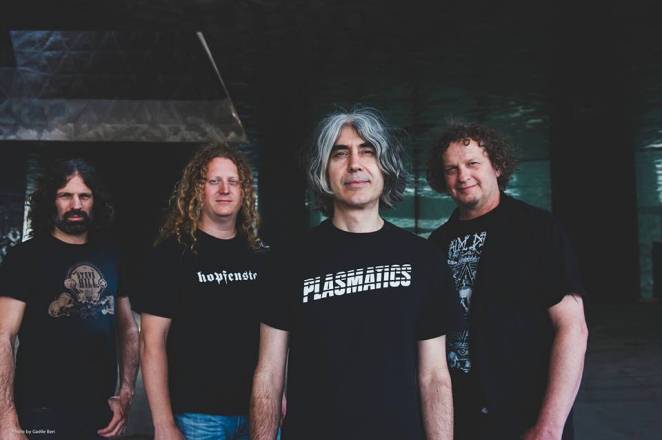 Progressive sci-fi metal innovators VOIVOD continue to promote their latest Mini-CD release entitled "Post Society – EP" and have now kicked off a next run of shows in Europe and the UK. Check out the EP's title track music video below.
The band's upcoming dates are as follows:
VOIVOD – Post Society Tour / Europe 2017:
08.06. Hamburg (Germany) – Logo
09.06. Sölvesborg (Sweden) – Sweden Rock Festival
10.06. Rheine (Germany) – Hypothalamus
11.06. Goes (The Netherlands) – Podium 'T Beest
12.06. Aalst (Belgium) – Cirque Mystic
13.06. Norwich (UK) – Waterfront
14.06. Glasgow (UK) – Audio
15.06. Newcastle (UK) – Riverside
16.06. Leeds (UK) – Temple Of Boom
17.06. Nottingham (UK) – The Dog House
18.06. London (UK) – Underworld
19.06. Essen (Germany) – Turock
21.06. Tilburg (The Netherlands) – Little Devil
VOIVOD – Live 2017:
14.07. Quebec City (Canada) – Festival D'Ete + Metallica
22.07. Baie-Saint-Paul / Quebec (Canada) – Le Festif!
09.09. Montreal (Canada) – Wings of Metal Festival (Sold Out!)
21.10. Landshut (Germany) – Alte Kaserne
Many more dates will be revealed soon…
VOIVOD's "Post Society – EP", which followed up 2013's acclaimed "Target Earth"album release, is available as Digipak CD and as Digital Download. It contains 5 studio tracks with a total playing time of 30 minutes. The artwork was traditionally created by VOIVOD drummer Michel "Away" Langevin.
The "Post Society – EP" can be purchased here.