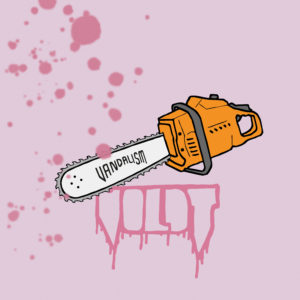 First I thought Voldt had some relation to Angra. Maybe Queensrÿche in some oddly ways as well. Some songs from "Vandalism" really made me think this way. But then I heard the last, but not least as usual, "Shame or Glory" and I hit the bull's eye:  Alcatrazz. That's the band I was looking for. Vocalist Al hasn't that a similar voice to Graham Bonnet's but everything together voice and instrumentals made it right. well, that's the very first time I found a band that I could relate in some ways to Alcatrazz one of the many unsung heroes of Metal music. Maybe my child of the night might know it because guitarist Yngwie Malmsteen played the guitars there for some time before setting up his own band. Though, thinking of it deeper, "Vandalism" has a very personal  touch and sound. Clichés don't really have a place here. The band has its own way of doing things even though they aren't news at all.
The album is opened by the intricate and mysterious "The Great Command" one of the songs that made me think and reflect what is that I'm listening here. Al's very personal voice gives the tone and the instrumentals follow his uniqueness that sometimes is quirky or even odd. but hold your horses and chill my child of the night. This all is only spice to the music I have the fortune to listen. "Vandalism" intrigued me as few other albums I had the opportunity to review here. In one hand it's the good old Old School Heavy Metal, on the other hand there are peculiarities that give the band its own sonancy. The album isn't really heavy as hell, but the feeling some tracks give as "Headless Haunting Hound" make them really heavy in intent. Pay real close attention to the guitars. Note how many lines are played. So many to tell. Not only the guitars but pay close attention to bass lines that are really creative and prominent. The drums, though, the recording or the production let them a little too low. I guess they deserved to be louder.
Ok, I used this word a few reviews ago and I will use it again. "Vandalism" is a hodgepodge of Metal music. Now that I hit the bull's eye, "Symphony of Suicide" sounds as Alcatrazz as well and the more I hear the album the more it gets away from Angra and Queensrÿche. Juts the first feelings and impressions everyone has with an album. Though, in some parts of this track the vocals remind the late Andre Matos. Really good album.
P.S: I have to say for the record that the album cover doesn't do justice for the music herein.
Voldt "Vandalism" will be released via Blood Blast Distribution.
Track Listing:
The Great Command

Headless Haunting Hound

Killing at the Speed of Light

Symphony of Suicide

Monsters of the Sea

Teachings

Servant

Shame or Glory
Watch "The Great Command" official video here: