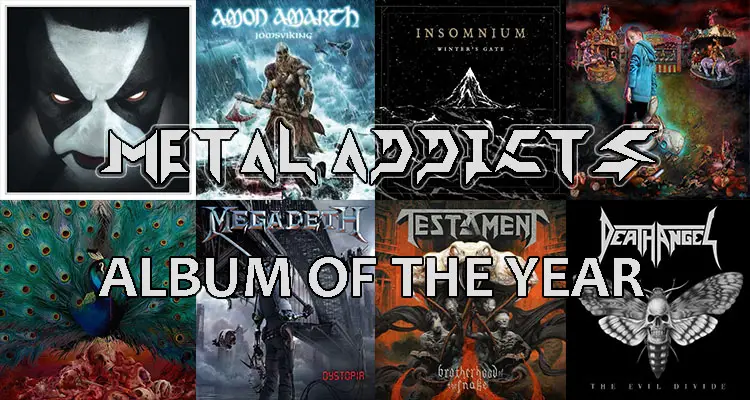 Friends, family, and people who are kept at a distance at all times . . . it is once again that time of year. Now, I don't mean Christmas and good ol' Saint Nick coming to town. I mean the time that we stop and take a moment to reflect on all the ball busting metal that we've been treated with throughout this magnificent, yet very tragic, year for the phenomenon of metal!
Much like the past two years on our website, the staff has rounded up some of our favorite records of 2016. Some underground, some very well known. However, we once again leave the decision up to you, the glorious reader, to decide what album should be awarded to Metal-Addicts' Top 10 Award!
Perhaps the indomitable force of Megadeth will claim the crown, maybe the fresh act that is Serpentine Dominion, or innovators such as Inter Arma or Rudra? We do not know, but it's up to you to decide! Vote, share, and keep spreading the word of metal and just maybe your choice could be named the kings of 2016 metal!
So, please, without further ado . . . give us the honor of voting for your favorite album of 2016 and let the world know that both the underground and the well known have a powerful that demands to be heard whether it likes it or not. And goddamnit will it listen!
VOTING ENDS ON DECEMBER 3RD, AND YOU CAN VOTE ONCE EVERY HOUR FOR YOUR FAVORITE ALBUM!!!
Disclaimer: as there are only so many hours in a day with a seemingly infinite amount of albums being released daily, it is impossible to hear everything. We're very aware we've missed literally thousands of records, but we honestly do try. Whether you choose to believe it or not.
POLL IS CLOSED. CHECK RESULTS HERE.
Honorable Mentions:
Metallica – Hardwired… to Self-Destruct
HammerFall – Built to Last
Dust Bolt – Mass Confusion
Zaum – Eidolon
Anthrax – For All Kings
Angel Sword – Rebel Beyond the Pale
HexHorn- Waking of Death
Howls of Ebb – Cursus Impasse: The Pendlemic Vows