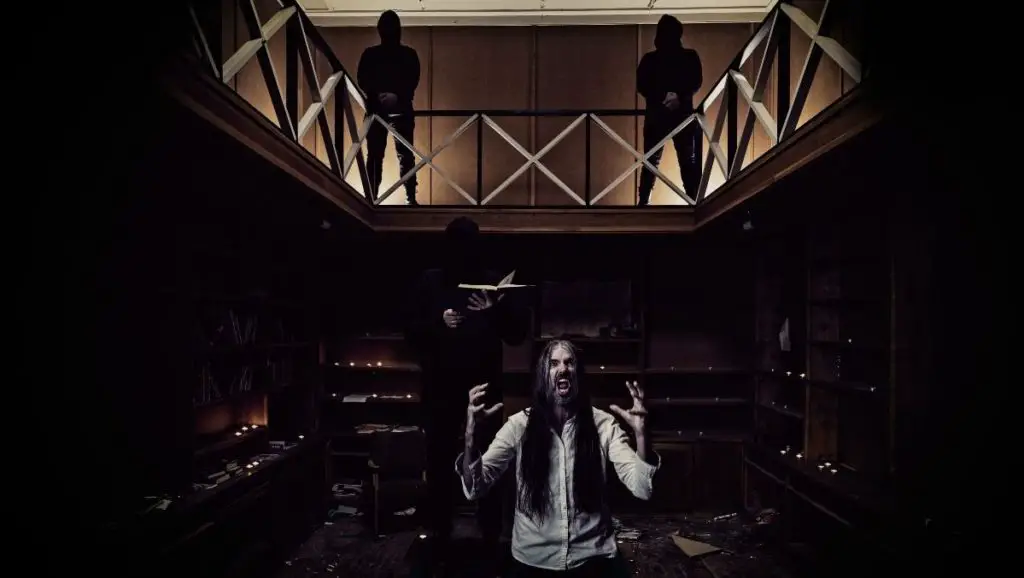 After the successful launch of VREID's new album and movie project Wild North West, the band appeared on Norway's TV2 last week, the biggest commercial news station in the country.
The Black 'n Roll brigade were interviewed to talk about the 'Into the Moutains of Sognametal' livestream, which attracted over 140.000 fans from all over the world last June, and of course about the upcoming album. The TV2 news item can be seen here.
Wild North West will be released on April 30th via Season of Mist in various formats.
From its tumultuous inception, the Norwegian metal scene has always been about pioneering. While embracing the illustrious black metal history as part of their musical heritage, the many iconic bands have now evolved in various directions. Leading the black 'n roll movement in Norway, VREID are the perfect example of that. The band arose in 2004 from the ashes of WINDIR after the tragic perishing of Terje 'Valfar' Bakken. The Sognametal legends declared the mission of exploring new musical paths, which they have pushed to even greater heights on their new record Wild North West.
The ninth record is not just a collection of songs, but a concept album that developed alongside an entire movie. Throughout eight chapters you will be taken on a journey deep into the mountains, to a dark place where the borders between reality and fantasy fade and where death is only one step behind you: The Wild North West. Not just in sheer size of the project but also in terms of music videography, creativity, and determination, VREID have done something truly unique and lifted their art to a new dimension.
On the concept, founder and bass player Jarle Hváll Kvåle states: "Wild North West is a concept story about life itself and its eternal shadow: death. It is built around the world of our fictional character E, but it is surely inspired by my own life, my band's life, historical events and many tales that have inspired me over the years. Is it a true story or fictional? I would have to say both, and sometimes is hard tell the difference."
Wild North West features the most extreme and intense work of the band to date, as well as heavy and melodic rock songs. These influences have always been a part of VREID's DNA, and it is this combination that makes up the spirit of Sognametal. A remarkable homage to that same musical spirit is the song "Into the Mountains". The ideas for that track were written in 2002 by Jarle 'Hváll' Kvåle and Terje 'Valfar' Bakken (WINDIR). Inspired by these ideas, Hváll wrote the song and included the original demo keyboard tracks from 2002, recorded back then by Valfar.
In 2021, VREID will once more invite the fans to their dark, cold, and wild universe but tread carefully as from these haunted mountains, no man can descend.