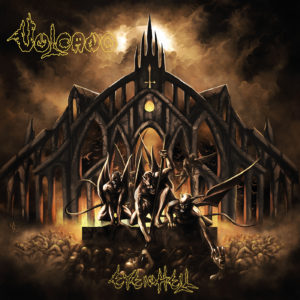 The seminal, and highly important, Extreme Metal band Vulcano are back with their latest, and freshest, release "Eye in Hell" which gives the band a new chance to smash this sad and lonely and pathetic planet with their merciless and cruel and pungent music. Vulcano, for the newcomers into the world of Extreme Metal music and the unadvised, are one of the pioneers of the so-called Extreme Metal. It's hard to express in words what these giants of Vulcano and their more than thirty years of a solid and cruel career dedicated to the rise of Extreme Metal mean to all of us. "Eye in Hell" is an album that makes the fan proud.
In a few words, "Eye in Hell" can be divided into two moments; the Slayerish themes and Vulcanish themes. Hard to get? No, not really. The thing is that vocalist Luiz Carlos Louzada's tone of voice reminds Slayer's Tom Araya's and there are tracks as "Bride of Satan" which have a similarity with what Slayer use to do, specially in the 1980s. On the other hand, tracks as "Strugglin Besides Satan" and "Devil´s Bloody Banquet" sound as the mighty Vulcano best. In general, the mood in "Eye in Hell" is pretty 1980ish, but with some steps ahead. Well, bottom line, Vulcano are doing here what they do best, and that is a cruel and punchful music that makes the fan bang and pogue at large. In fact, I'd like to give a big highlight and hail to tracks as "Devil´s Bloody Banquet" "Sirens of Destruction" and their combination of a frentic cadence and an adrenalized rhythm. The kind of tracks that make the fan even prouder and eager. Needless, and never enough to say, Vulcano are one the Extreme Metal scene bands that really know how to combine slow tempos with speed-of-light ones. The outcome is really big. Another big hail to the double bass drumming which made the song even greater.
"Eye in Hell" is a giant album of the gigantic band Vulcano. No more, no less. Once more the veterans are teaching a real lesson of how to make Metal even bigger.
"Eye in Hell" Vulcano will be released on March 07th via Mighty Music.
Track Listing:
Bride of Satan
Cursed Babylon
Evil Empire
Struggling Beside Satan
Sinister Road
Devil Bloody Banquet
Sirens of Destruction
Dealer of my Curse
Mysteries of the Black Book
Inferno
Cybernetic Beast
When the Days Falls
Eye in Hell
Watch "Bride of Satan" official music video here: