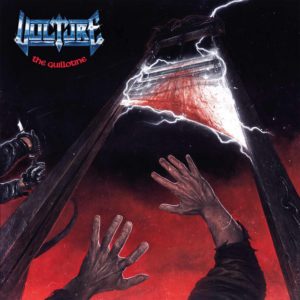 I told you speed metal hell was back, didn't I? Back and stronger than ever. Vulture's "The Guillotine" is a living proof of it. Let's welcome back fast-as-the-speed-of-light drumming, yelling and screaming vocals, ferocius and acid guitars, and bombing basses. Vulture are all of that. With no exception. A magnificent praise to speed. And "The Guillotine" is here to cut heads apart.
Well, let's go to the album, shall we? The serius punching starts with "Vendetta," which features a nice intro, somehow dense, bleak, leading to a wall of sound that turns you apart. Good starting. "Vendetta" is a good sample of how accurate Vulture are. I mean accurate because the guitars interventions are precise as the work of a master surgeon. The guitar bridges are also one of a kind. They simply break all the sonorous assault aggression to bring up some unexpected melody. "Clashing Iron" is thrashier. Some serious punching. Fast and furious guitars and vocals. Smashing drums. Just the way we like it. Vocals are so acid that they could melt everything down.
Surprises come with the intros. Some songs as "Adrian's Cradle" open differently, with some classical touch which brings them together with Black Sabbath's intros. But fear not, "Adrian's Cradle" rocks! Great twin guitars. So does "(The Night Belongs) To The Dead." The guitar phrasing and soloing in "Paraphiliac" is just remarkable. Lead phrasing is really something: cruel and mean. Judas Priest's "Turbo" was praised in "Cry For Death." Just check its opening.
And then goes "The Guillotine." In the good sense, "The Guillotine" is predictable. No surprises at all. Vulture play exactly what we expect from them. There's no disappointment in hearing "The Guillotine."
Track Listing:
Vendetta
Clashing Iron
Triumph Of The Guillotine
Electric Ecstasy
Adrian's Cradle
(This Night Belongs) To The Dead
Paraphiliac
Cry For Death
You can watch them alive here.