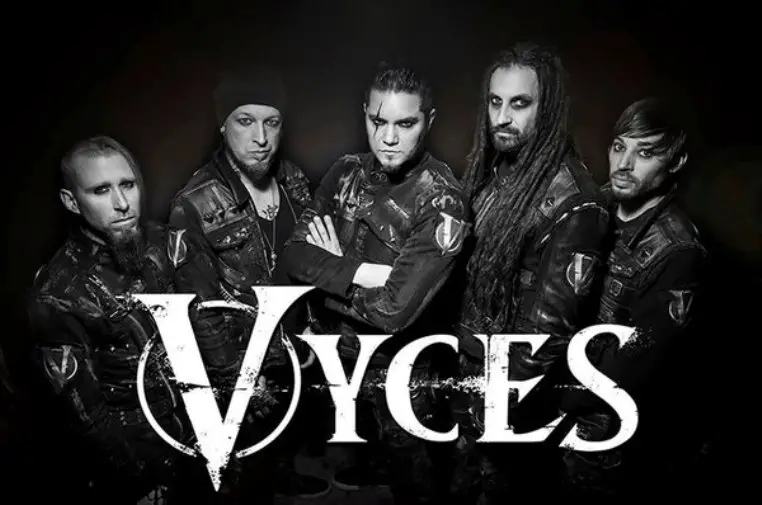 Los Angeles, California Hard Rock band VYCES have announced that they will co­headline the HELLRZZR TOUR sponsored by HELLRZZR CLOTHING with Las Vegas, Nevada band INVIDIA this fall. The tour will kick off on October 18th in San Diego, California, make its way to the midwest, and then conclude on November 22nd in Sacramento, California at The Boardwalk.
After recently premiering their video for their single "DEVIL" from the band's upcoming debut EP due out October 20, 2016 that was produced by Augustus Cryns (Stitched Up Heart, XO Stereo, The Dead Rabbits and Westfield Massacre) on VEVO, VYCES is ready to hit the road on a co­headlining US run with INVIDIA and WHITE KNUCKLE RIOT in support.
Pre-orders will be available on September 29th on iTunes!
VYCES frontman Dave Naruszewicz comments, "We are extremely excited for the opportunity to be heading out on The HELLRZZR Tour with the super heavy and talented INVIDIA and White Knuckle Riot. We've been working really hard over the past three years putting VYCES together. It's an amazing feeling to see this beast finally come to life. We are really looking forward to seeing familiar faces, and making new fans along the way. We'll see you all on the road!!"
"DEVIL" single can be seen below. The song can be purchased here.
INVIDIA is a massive heavy metal super­group comprised of IN THIS MOMENT bassist Travis Johnson on vocals, Matt Snell of 5 FINGER DEATH PUNCH, Fame on bass with SKINLAB guitarist Brian Jackson & Marcos Medina completing this highly anticipated project masterminded by metal Legend Logan Mader (of Machine Head, Soulfly, Once Human)
WHITE KNUCKLE RIOT was formed in California in order to deliver the people a politically charged message, conveyed in heavy rock, haunting lyrics and drive.
HELLRZZR CLOTHING is a street brand that doesn't pertain to any one style. They have the brass to take on a wide variety of meanings while staying significant to their values, stand up and fight for what they believe in, and live life to the fullest. There's a HELLRZZR in us all and nothing worth having is obtained without putting in the work. HELLRZZR is quality printed and designed clothing that embodies these core values with the intension to regularly deliver consistency in their designs while offering a new style that embraces continuous change.
HELLRZZR TOUR DATES:
10/18 – San Diego, CA – TBA
10/19 – Los Angeles, CA – Troubadour
10/20 – Santa Cruz, CA – TBA
10/21 – Reno, NV – The Rockbar Theatre
10/22 – Las Vegas, NV – TBA
10/23 – Albuquerque, NM – The Co-Op
10/25 – El Paso, TX – TBA
10/26 – Midland, TX – TBA
10/27 – San Antonio, TX – TBA
10/28 – Corpus Christi, TX – TBA
10/29 – San Leon, TX – 18th St Pier
10/30 – Dallas, TX – TBA
11/1 – Oklahoma City, OK – Thunder Alley
11/2 – Salina, KS – Paramount Bar
11/3 – Omaha, NE – TBA
11/4 – Savage, MN – TBA
11/5 – Chippewa Falls, WI – EveryBuddys
11/6 – Dubuque, IA – The Venue
11/8 – Peoria, IL – Limelight Sound Bar
11/9 – Madison, WI – The Red Zone
11/10 – Stevens Point, WI – TBA
11/11 – Cudahy, WI – The Metal Grill
11/12 – Joliet, IL – The Tree
11/13 – St. Louis, MO – TBA
11/15 – Hutchinson, KS – TBA
11/16 – Denver, CO – Aztlan Theatre
11/17 – Casper, WY – TBA
11/18 – Idaho Falls, ID – The Falls
11/19 – Garden City, ID – Eclypse
11/20 – Sacramento, CA – The Boardwalk